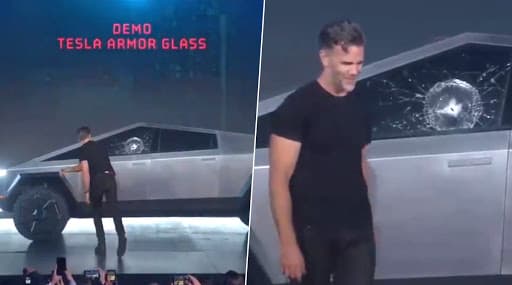 Tesla on Friday unveiled their "Cybertruck" pickup truck at an event in Los Angeles and met with an embarrassing moment during the presentation ceremony. The truck's windows were smashed during a demonstration which was supposed to highlight how hard the glasses were. According to a Tech Crunch report, the incident happened when Elon Musk asked an on-stage companion to demonstrate the strength of the Tesla "Armor Glass" by throwing a solid metal, baseball-sized ball at the driver side window.
The stunt backfired and the window cracked. Musk then asked the person to test the window on the passenger side - and again the window broke. Musk was heard saying "Room for improvement". Price of the vehicle will start at $39,900. Tesla Model S Explodes in China: Electric Car Burst Into Flames in Parking Lot; Investigation Underway (Watch Viral Video).
Check the video here:
I wish Elon Musk hadn't blocked me on Twitter after I said his Mars colonization idea was dumb, so I could tell him how ugly his new #Cybertruck is. pic.twitter.com/c7VnNv7OiH

— Mark Dice (@MarkDice) November 22, 2019
Twitterati making fun of the design
Actual image of Elon designing #Cybertruck pic.twitter.com/q41DmTmsLe

— alby13 (@alby13) November 22, 2019
Here is another user tweeting about how Musk arrived at the design:
Elon be like #Cybertruck pic.twitter.com/tFZloK43jH

— renz.jpg (@renzdimaandal) November 22, 2019
The hashtag #Cybertruck was trending on Twitter and people were having a gala time on the internet making fun of the embarrassing moment that took place on the stage. The design of the expensive car was also not appreciated and people posted memes on twitter.