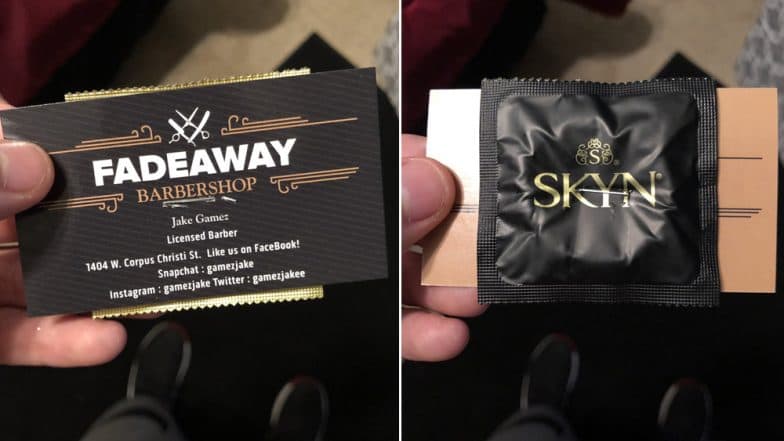 We all love freebies right? Be it chocolates or roses, we love the small tokens we get for absolutely free. Toffies and flowers behind, free condoms will always have takers. A barber in the US in order to promote his business gave away condoms as freebies. He wanted to give out the idea that getting a cut from him would make the person look irresistible and you get the idea, right? His innovative idea was laughed off on Twitter because he stapled his business card to the condom packet. Well, that practically makes it a useless freebie because what is the use of a condom with holes in them? Twitterati pointed out the major flaw and was left laughing either at his mistake or action done well with a purpose. Barber Cuts Off Kid's Ear as a Revenge Prank for Placing Fake Cockroach in His Shop, Watch Video.
The barber himself tweeted a picture of him giving out condoms to all his customers. But while he presented the condoms, it had his business card stapled on to it. So whenever the person would remove the card to use the condom, the holes would remain or more likely get bigger. A condom with holes is of no use anyway. Soon enough, the people on the internet were quick to notice it. The tweet started going viral. Don't Like Wearing Condoms While Having Sex? New Side-Effect Free Male Contraceptive EP055 Developed By Scientists.
Check Barber's Tweet of Giving Away Condoms as Freebies
Gotta include one of these with every card! You're going to need it after I cut your hair 💈🥇Trust me 🙌🏼 pic.twitter.com/V8XEusCgoe

— jake gamez🐍💈 (@gamezjakee) March 10, 2019
Well, the makeover from Mr Gamez would sure make a person irresistible but if they happen to use his contraceptive, they are more likely to get an altogether different makeover of becoming parents!
Check Tweets Pointing Out the Major Flaw in His Freebies
LOL It's going to really feel like "Skyn" when those staple holes open up, and make that condom a turtleneck.

— Mr. Kenneth (@KDisms) March 10, 2019
I mean, if you want them to bring you new clients, you could just ask them for a referral.. 😭😭💀

— zellie (@zellieimani) March 10, 2019
Child Haircut Market
He trying to lock up the child hair cut market too pic.twitter.com/HBOk5C7uvL

— DJ Hella Yella (@djhellayella) March 10, 2019
He Really Did THAT!
i was about to say, DAMN, you did that. but then i saw the staple and i was like daaaamn... you reallyyyy did that. 😂😂😂

— Kiana R. Moctezuma (@booksandkiana) March 10, 2019
Some also said that his freebie condoms are actually a trap. While some thought he was making a larger business plan of his customers coming along with their future babies to get their haircut done. Mr Gamez was just replying with a laughing emoji on those who pointed out the glaring error. So maybe it was his plain evil plan. Well, that's too farfetched thinking for his business growth right?