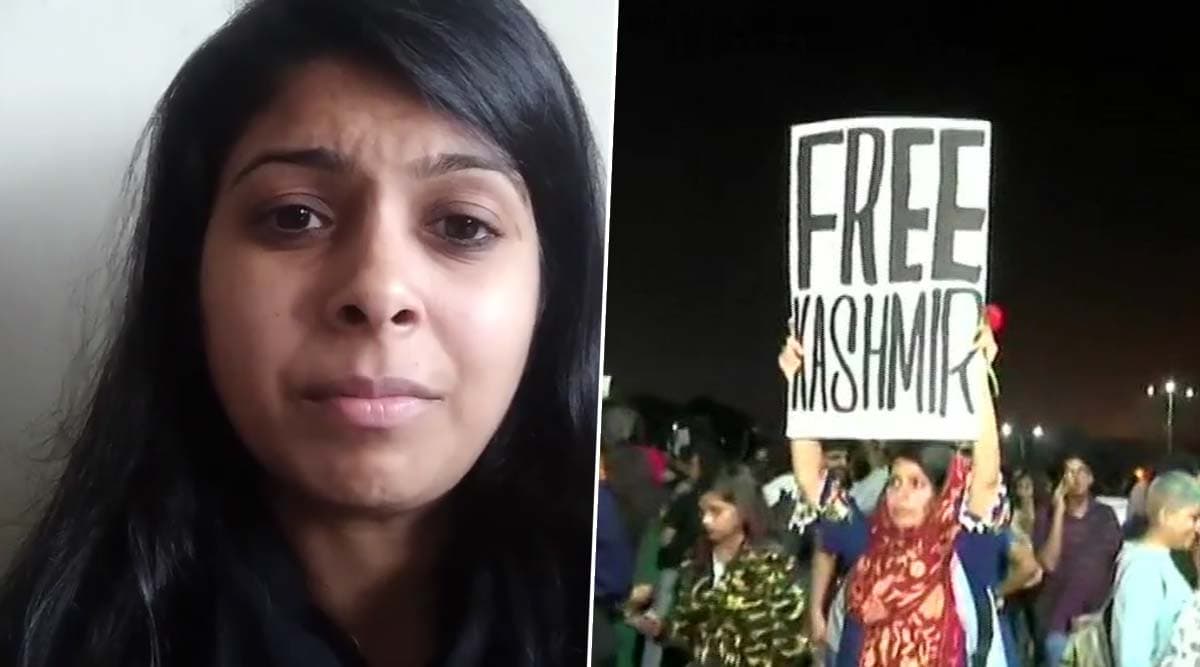 Mumbai, January 7: A day after political storm broke out over the "Free Kashmir" placard held during Gateway of India protest in Mumbai over the JNU violence in Delhi on January 5, the girl who was seen with the placard issued clarification over the matter. In a Facebook video, the girl identifies herself as Mehak Mirza Prabhu and says she is a writer by profession. The girl claimed that she is from Mumbai and said that she made the video in order to counter the narrative as her actions were "misinterpreted" and that the issue of "Free Kashmir" has been "blown out of proportion." Mumbai: Students Hold Midnight Protest Against Violence in Delhi's JNU.
Mehak Mirza Prabhu said that she quietly stood in a corner with the poster and even had flowers in her hand. The writer made it clear that allegations leveled on her about doing what she did because she belongs to a political party or any "gangs" are not true. Violence in JNU: Masked Mob Attacks Students Inside Campus, JNUSU President Aishe Ghosh Severely Injured; Student Union Blames ABVP.
She made it aptly clear in her video that she held the placard because she wanted to turn people's attention to the situation in Kashmir. The girl also said that the alleged "clampdown on internet services in Kashmir is a issue which should appeal to every Indian if we think of them as our own." JNU Violence: Delhi Commission For Women Chairperson Swati Maliwal Issues Summons to Police Over Attack on Students.
The girl also appealed everyone to "make peace" and refrain from creating unnecessary controversy over her placard. She also added that the whole issue can create trouble for her safety and ended her video by urging everyone to see things in right context and "not be so fearful."
Watch the Video Below
The demonstrators were seen with several other placards. Some posters called for 'Ban on ABVP,' while some others read -- Stand with JNU. Earlier in the day, actor Sushant Singh reached the Gateway of India where the students staged a protest against the violence on the JNU campus on Sunday.
Students from various colleges had gathered at the Gateway of India on the intervening night of Sunday and Monday to protest against the violence on the JNU campus on January 5.On Sunday evening, more than 30 students of the university including JNUSU president Aishe Ghosh were injured and taken to the AIIMS Trauma Centre after a masked mob entered the campus and attacked them and some professors with sticks and rods.