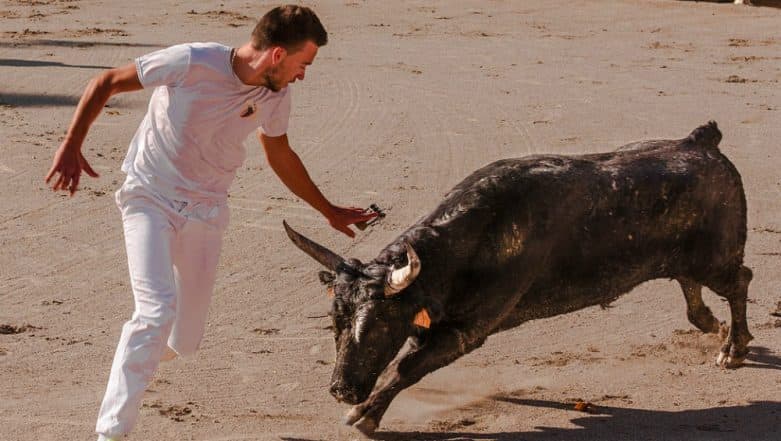 England's Great Yorkshire Show 2019 has just begun from July 9, 2019, and it already made its way creating some viral moments. However, the recent one is scarier than anything close to entertainment. A spooked Limousin bull, who broke it's loose and took charge of the cattle ring, was captured dragging its handler, trampling and knocking him, leaving him injured in the process. The man was immediately taken under medical supervision. Onlookers were horrified by the sight, who later shared pictures of the frightening moments on social media platforms. Two Men Watching Bull-Taming Event Killed in Tamil Nadu's Pudukkottai. 
The Limousin bull was walking out of the cattle ring after winning the game, when it was startled by something, dragging its handler back across the ring. According to reports, the man was treated by ambulance staff at first, before being taken to Harrogate District Hospital. He has suffered head injuries, but doctors are hoping him to get recovered soon since the grievances do not seem to be serious. Eyewitnesses went panic, but soon the situation at the show was under control.
View Viral Pics Here: 
BULL-DOZER! Moment 'spooked' bull breaks loose and tramples handler in cattle ring moments after winning prize at the Great Yorkshire Show

via https://t.co/BR8uKYmiL9 https://t.co/1yfuTq01r7

— GEOFF S.K,RETIRED ROCK MUSICIAN&SOLO ENTERTAINER. (@Geoffkernow) July 10, 2019
The Great Yorkshire Show is an agricultural show staging major annual livestock, machinery, rural pursuits and food festival. It is held on the Great Yorkshire Showground, situated in Harrogate, and annually begins on the second Tuesday of July, 2019. This year's show is the 161st year and the show is run by the county's Agricultural Society and is the largest agricultural show in the United Kingdom. Every year, it attracts, thousands of visitors, showcasing the best of British farming.