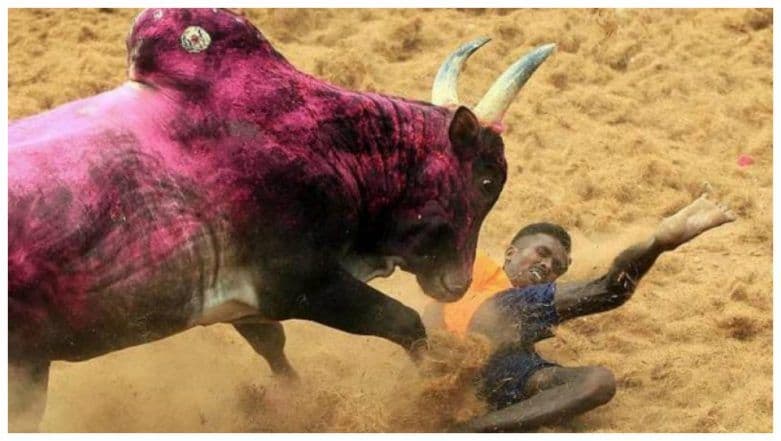 Chennai, January 21: Two people watching the Jallikattu event in Puddukottai district of Tamil Nadu were killed after bulls attacked them on Sunday. Jallikattu, the bull-taming sport, has begun across the state as part of the Pongal festivities. According to reports, the deceased, identified as Ram and Sathish Kumar, both 35 were killed as they were attacked by bulls during the event. A senior officer was quoted by NDTV saying that the tragic incident happened when the owners were taking their bulls back after they have completed in the barricaded arena. Jallikattu Then And Now: Objection, Agitation, Legislation - A Flashback.
Gaiety and valour marked the conduct of Jallikattu celebrations across the state since the last week. Tight security arrangements had been made at several places in the state with the deployment of police personnel to prevent any untoward incident. Jallikattu 2019: Traditional Bull-Taming Event Begins in Madurai, Watch Video.
Jallikattu is traditionally held during the harvest festival 'Pongal' in mid-January especially in southern districts. The bull-taming sport remained banned following a Supreme Court order in May 2014. Following the order, massive protests were held in Tamil Nadu in January 2017, seeking nod to hold bull taming sport 'Jallikattu'.
After the massive protests, the Tamil Nadu government last year brought an ordinance to facilitate its conduct at the height of a massive protest held at Marina Beach in Chennai and several places across the state. A Bill to allow Jallikattu by amending the Prevention of Cruelty to Animals Act, 1960 was unanimously adopted by the Tamil Nadu Assembly on 23rd January, 2017 after all parties welcomed the legislative initiative.
Attractive prizes, including gold coins, are given away to the winners who tame the bulls. Following the massive agitation, Jallikattu was held in some places during the third week of January and in the first week of February elsewhere in 2018.