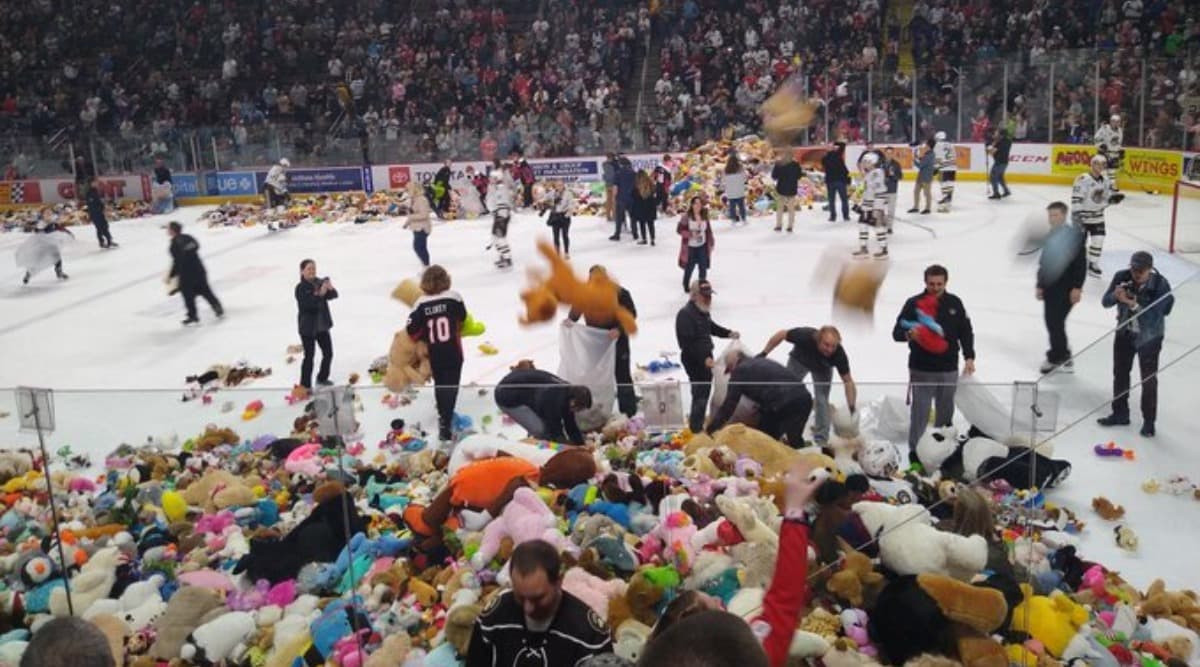 It was raining stuffed toys Pennsylvania pro-hockey held on Sunday. Like every year the team hosted its annual Teddy Bear Toss, a tradition which encourages people to throw stuffed teddy bears on the ice after the home team gets its first goal. This year the teddy bear rain began after Christian Djoos scored the Bear Toss goal. They collected 45,650 stuffed animals smashing last year's record of 34,789. Due to the tradition, the game was delayed by 40 minutes. Hershey Bears' Ice Hockey Fans Throw 34,000 Teddy Bears Onto Rink Breaking World Record (Watch Video)
Hershey Bears tweeted a video of the teddy bears falling to the ice with the caption, "A dude in a movie once said, 'we're gonna need a bigger boat'. That's the current mood. After all the bears reach the ground, players click pictures with it. Thereafter, as per tradition, the stuffed animals are collected for donations to 40 charities around Hershey including the Milton Hershey School, Children's Miracle Network and American Cancer Society. It is gifted to underprivileged kids or those suffering from chronic diseases.
Watch The Video Below:
A dude in a movie once said, "we're gonna need a bigger boat."

That's the current mood. #TeddyBearTossHershey #HBH pic.twitter.com/6HjVuhdKFS

— Hershey Bears (@TheHersheyBears) December 1, 2019
The toys included everything from teddies, giant clothes and huggable bears. This year's donations are 10,000 toys more than last year's toss making it the largest ever. Reportedly, one club seat holder has pledged to donate $1 per stuffed animal to Children's Miracle Network, a nonprofit which raises funds for hospitals and medical research. The record-breaking event is an initiative for charity which began long ago that gets support from fans and players alike.