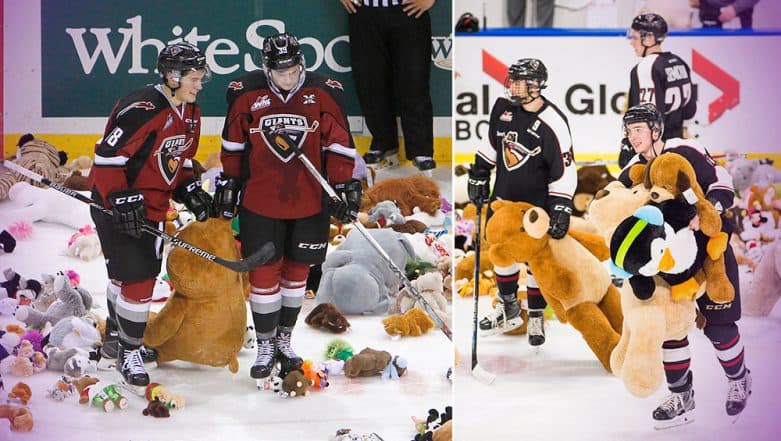 Hershey Bears' hockey game held in Hershey, Pennsylvania broke a world record after the game ended on Tuesday. Fans threw thousands of teddy bears onto the ice ground celebrating the team's victory. More than 34,000 bears were tossed onto the ice breaking the previous world record of 28,000. The teddy bears were not simply thrown into the rink for fun, but also holds significance. The stuffed animals will be donated to charity.
Ice Hockey player Riley Barber's first goal for the Hershey Bears, a minor league affiliate of the Washington Capitals on Sunday helped them win the game. A total of 34,798 stuffed animals were thrown onto the ice for charity. The match was between Washington Capitals and  Binghamton Devils. Fans were encouraged to throw teddy bears onto the field as Bears scored their first goal. Panda at Vienna Zoo Learns Painting and Now Hundreds of Its 'Artworks' Are Being Sold for Rs 40,000 Each! (Watch Video)
Watch the record-breaking event here:
As Christmas holidays have begun, ice hockey is quite common in cold countries. They will be donated to about 30 area charities including schools, food banks, Children's Miracle Network and the American Cancer Society throughout the holiday season. The team beat New York rival Binghamton 6-3. The 2017 record was set by the Western Hockey League's Calgary Hitmen in 2015.
It seems the players had a great time being hit on their head by teddy bears in between the game. Over the last six years, Hershey Bears fans have donated 106,476 teddy bears to charity. Some even immersed themselves in the mountain of stuffed animals.