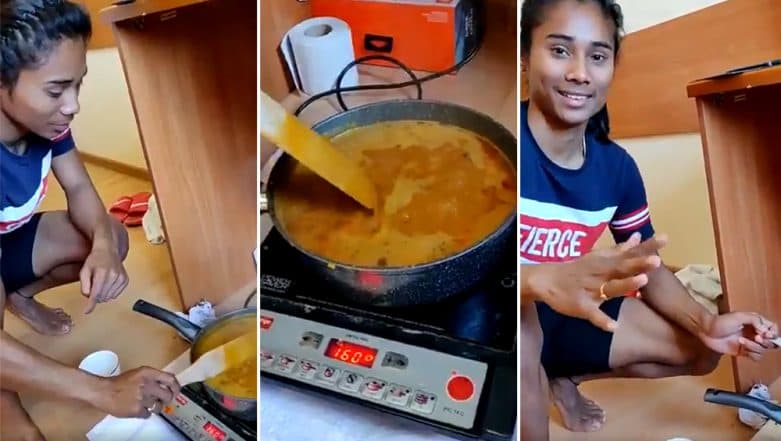 Hima Das is an Indian ace sprinter from the state of Assam. She is also known by the nickname of 'Dhing Express'. She recently won the gold medal in the 400-metre race on July 20, 2019, which was her fifth within a span of 19 days.  The 19 years old Hima Das clocked the season-best timing of 52.09 seconds at the Nove Mesto nad Metuji Grand Prix. After clinching gold medals and making her country proud, she is getting applauded on social media for her cooking skills. Here she won the heart of her fans by cooking Assamese dal in Europe. Hima Das Clinches Fifth Gold Medal in 18 Days! Watch Video of Indian Sprinter Win 400m Race at Athletics Meet 2019.
Hima Das personal best record is 50.79 seconds which she recorded at the Asian Games in 2018. Inspite of bagging gold, Hima failed to qualify for the World Athletics Championships as the 400-metre qualification mark for the world event has been kept as 51.80 seconds. On July 17, 2019, Hima won the gold medal in the 200m race at the Tabor Athletics Meet. The Indian sprint runner Hima win gold at the Poznan Athletics Grand Prix on July 2, 2019, which was her first competitive 200m race of the year. Now let us see how Hima Das is drawing attention on media for her cooking skills. Hima Das Sprints to 400m Gold Medal, 5th This Month: Twitterati in Awe of India's 'Golden Girl'
Hima Das Cooking in Her Hotel Room
A simple dal tastes heavenly in foreign soil. A small video clip doing the rounds in couple of my WhatsApp groups. Watch @HimaDas8 cooking dal .... adorable! She represents the real India. #DhingExpress pic.twitter.com/Cz8HYnrdto

— Geetima Das Krishna (@GeetimaK) July 23, 2019
Hima Das Should Be Made Brand Ambassador!!!
@Amaresh45814810 @hemirdesai @BHARATBAG @VivekWadhwani14 @shivajirao29 @PMOIndia @AnupamPKher @rashtrapatibhvn @AmitShahOffice @VPSecretariat @priyankachopra

I believe, Hima Das deserves to be our #brandambassador representing India!!! pic.twitter.com/hSMGaQzGmk

— Kaushik Desai (@KaushikDesai16) July 24, 2019
Sports Stars Should Be Provided With Mini Kitchen when they travel!
Awesome....guess these stars need to be provided a mini kitchen with stocks wherever they go....winners need to be pampered..the least we can do for them

— Anky (@Ankineedu1A) July 24, 2019
1000 Salute To The Simplicity of Hima Das!
1000 salutes to the simplicity of the new star Hima ...... Really proud of you Hima

— जय श्री राम🇮🇳 New India 🇮🇳 (@priyankpanda) July 23, 2019
Hima Das is Real Daughter of Mother India!!
She is a real daughter of Mother India.

— c.l.shah (@arianindian) July 24, 2019
When Hima Das won her second gold medal at the Kutno Athletics Meet in Poland she had a sore back, here she clocked the timing of 23.97 seconds in the 200-metre. In this event, another Indian from Kerala, V.K. Vismaya grabbed silver with a timing of 24.06 seconds. Hima Das has just recently cleared 12th-grade exam from Assam Higher Secondary Education Council in May 2019.