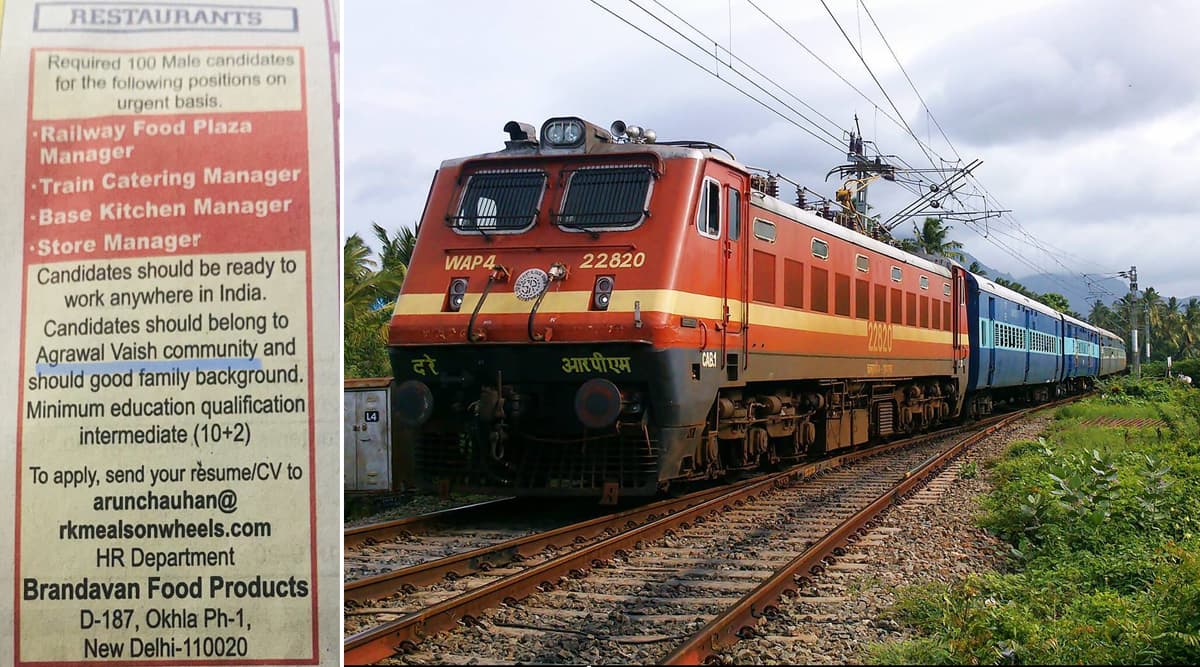 New Delhi, November 7: RK Associates, one of the major hospitality contractors for Indian Railways received severe backlash after posting a newspaper ad seeking "100 male candidates from Agrawal Vaish community" and from "good family background" to serve within the railway system. The matter was highlighted on social media, where people notified the senior officials in the Railway Board and IRCTC.
When things flared up, IRCTC reached out to RK Associates with an explanation. A Railway spokesperson as quoted in an Indian Express report said, "RK has confirmed that the manager of its Human Resources department who was responsible for the recruitment ad has been removed from the job because of this ad." Mysore-Varanasi Express Passenger Complains to Indian Railways of No Cleaning On Train, Gets Schooled on Internet For Littering; See Tweets.
Check the controversial ad here:
रेलवे का ठेका लेने वाली वृंदावन फ़ूड प्रॉडक्ट्स कंपनी को नौकरी हेतु 100 पुरुष चाहिए।लेकिन इस कंपनी की एक महत्वपूर्ण शर्त है कि नौकरी में apply करने वाले सभी लोग अग्रवाल-वैश्य समुदाय के ही होने चाहिए।इन्हें ब्राह्मण, राजपूत,दलित,पिछड़े,आदिवासी,अल्पसंख्यक और महिला स्टाफ़ नहीं चाहिए pic.twitter.com/ntghQEPLaU

— Sanjay Yadav (@sanjuydv) November 7, 2019
The criteria about candidates belonging only the Agrawal Vaish community sparked outrage after the screenshot of the advertisement went viral on social media. The ad was issued by the HR Department of Brandavan Food Products. The Indian Railways also issued a 'strong displeasure letter" to the company.