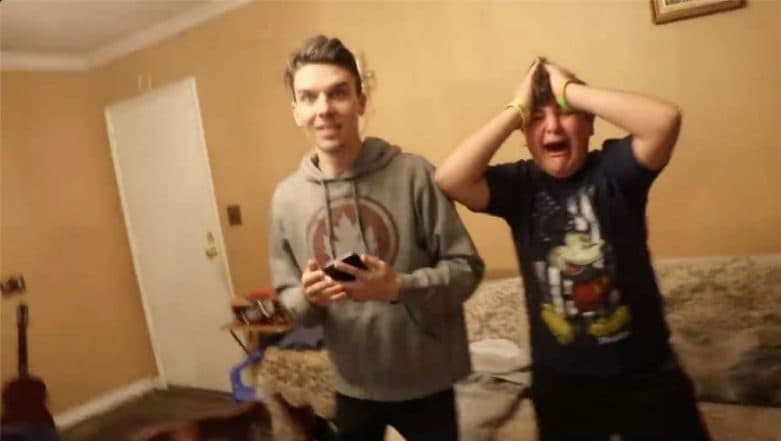 For those with siblings will know how the older ones conducted all their experiments first on the younger ones. From makeup, DIY hairdo to new jokes, and everything you wanted to know if worked, the poor beings had to go through all of it. So after all these years, it has changed to an internet challenged mostly involving younger siblings (because- easy target).
Called Invisible Challenge people are sharing videos of how they pranked their siblings after conducting a fake magic. This bizarre internet challenge began after American magician Justin Willman shared the video on social media of making a man believe he is invisible while he was not. The video was a part of the Netflix series Magic for Humans; the clip was released on YouTube on August 24.
Willman shared the video on Twitter with the caption: 'Convincing a dude he's INVISIBLE. (from #MagicForHumans now streaming on @netflix)'. For the magic, Willman makes unsuspecting participants sit on a chair. He puts a sheet on them and removes it to say that the person is invisible. The audience who are also with Willman exclaims how the man disappeared.
Here is the Netflix video:
Inspired by the video, many have taken up the #InvisibleChallenge in which they fool their younger brothers or sisters into believing that they are invisible, while the family plays the audience.
Here are some of the videos:
I highly recommend that everyone turns their siblings invisible HAHAHAH pic.twitter.com/SK4jLw7cNa

— DAVID DOBRIK (@DavidDobrik) September 6, 2018
Hahahahahaha I love this invisible challenge but I felt so bad lmfaooooo pic.twitter.com/DX6pZbghza

— Buttercup💚 (@sj_amaya03) September 9, 2018
The Netflix video has been viewed more than four million times and continues to go viral on different social media sites.
#invisiblechallenge on my poor niece 😂😂 pic.twitter.com/O5YXu8zp8Y

— Lillian Calvo (@Lilllly_C) September 10, 2018
But it seems not everybody could be fooled, adults were quick to realise the reality.
LOOOOOOOL Arabs did the invisible challenge pic.twitter.com/PcslMq1km8

— ᴘɴᴇᴜᴍᴀᴛɪᴄ 🇸🇴 (@lkigai_) September 9, 2018
While some burst out crying, other kids sure showed their anger.
#TheBest HAHAHAHAHAHAHAHAHAHAHA #NiñoInvisible #invisiblechallenge ORIGINAL I highly recommend that everyone turns their siblings invisible #Mexico pic.twitter.com/frxZE7gHyH

— ilvex (@ilvex) September 8, 2018
#InvisibleChallenge: This family deserves "Family of The Year"

Thank you internet 🙏 pic.twitter.com/21wZ7Q4TRa

— Kris Cruz (@realKrisCruz) September 10, 2018
The smart kid
It's sending me at the way he started screaming, then when he pick up the blanket & dropped it, and when he ran into the room and came out with the "I'm right here sign" 😭😭😭😭 🤣🤣#invisibleprank #invisiblechallenge pic.twitter.com/ykMiRcLaby

— | ɴɪᴄᴏʟᴇ | (@LOVELYNICKY_XO) September 10, 2018
While the videos of children thinking that they actually got vanished are funny, it feels a little cruel to put them through the torment even if for a few minutes. We need to think if we really want the little ones to cry helplessly for an internet challenge. What do you think about the #InvisibleChallenge? Do let us know in the comment section below.