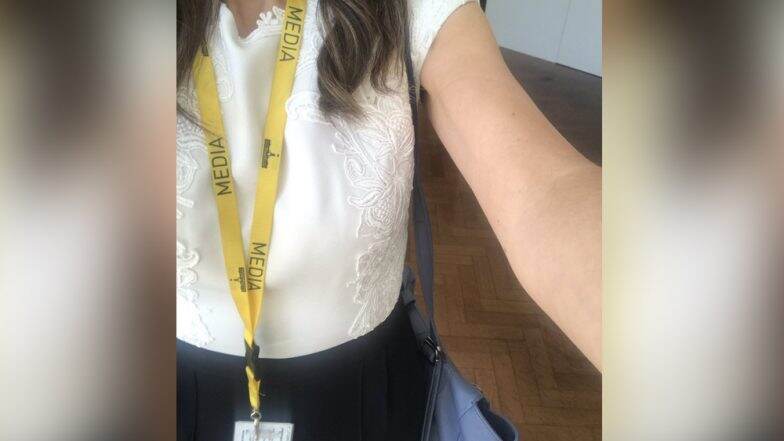 A journalist was asked to leave the Australian Parliament for wearing a top revealing her bare arms. ABC News presenter Patricia Karvelas took to Twitter saying that she was "kicked out" of a parliamentary session for showing "too much skin" on Monday. Sharing a picture of her attire she explained that she was dressed in a smart blouse with short sleeves for the session adhering to their dress code.
The incident leads to widespread outrage on Twitter with Australian women posting pictures of themselves showing their arms. As the incident received momentum, the Australian government apologised to the journalist while noting that she was not asked to leave the Parliament. Defence Minister Christopher Pyne said in Parliament, "I would like to apologise on behalf of this side of the House to Ms Karvelas for being ejected yesterday from the press gallery." Headscarf Protests: 29 Women in Iran Arrested for Protesting Against Mandatory Dress Code.
Speaker Tony Smith said that following the incident, he had ordered a review of the parliamentary dress code. He said, "The journalist in question was attired in a way which would be reasonably considered professional business attire… She should, in hindsight, not have been asked to leave."
Here is what Patricia Karvelas wore to Australian Parliament:
I have just been kicked out of #QT because you can allegedly see too much skin. His insane #Auspol pic.twitter.com/51KipESXlG

— PatriciaKarvelas (@PatsKarvelas) December 3, 2018
Narrating the incident, Karvelas said, "The attendant came up to me, she was very polite, she said she was essentially executing orders of her supervisor who said my clothes, what I'm wearing, 'too much shoulder'. Basically, I needed to cover up more, I needed a jacket," she said, adding she thought her pantsuit was in keeping with 'parliamentary standards'." Mahabaleshwar Temple Dress Code: Only Men in Dhoti, Women in Salwar, Saree Can Enter the Gokarna Temple.
According to the Australian parliament website, the dress code in the chamber is a matter of "individual judgement", however, the ultimate decision rests with the speaker. The ideal attire should be "good trousers, a jacket, collar and tie for men and a similar standard of formality for women".
Meanwhile, Australian politician Emma Husar posted a photo in a similar outfit to Karvelas', saying, "In solidarity with the short sleeve breaker." Some also compared Karvelas' outfit and the clothing choices with Australia's former foreign minister Julie Bishop. Bishop tends to wear short sleeved tops or sleeveless dresses during parliamentary sessions.