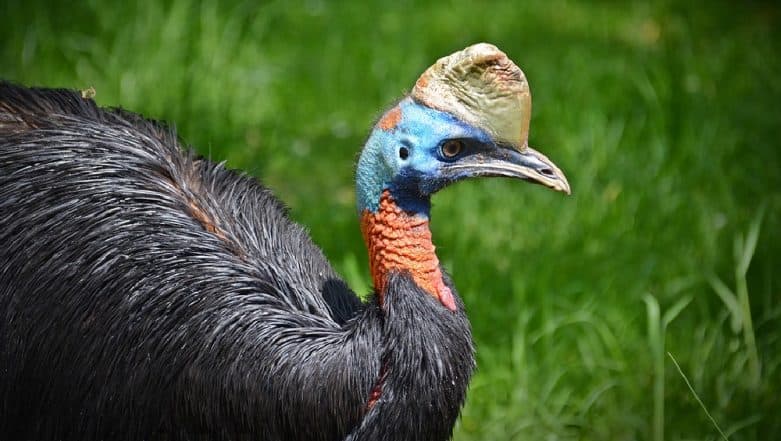 The giant cassowary bird which killed its owner in Florida last week is going to auction this weekend. Marvin Hojas was killed by the bird when he was in the backyard of his Gainesville home in Alachua County. The cassowary will be up for sale along with other livestock that Marvin owned. The San Diego Zoo says cassowaries are considered the "most dangerous bird in the world." Their claws can slice anything they dig into. Reportedly, Marvin was trying to retrieve an egg from the bird's pen when it attacked him. Cassowary Attack in Florida: World's Most Dangerous Bird Kills Its 75-Year-Old Owner in a Horrible Incident.
Marvin bred over a hundred huge birds including macaws, lemurs, kookaburras and marmosets. The 75-year-old had fallen between the pens of two cassowaries when one of them attacked him through the fence. He was later found by rescue workers on the ground between the pens with angry bird watching on. Gulf Coast Livestock Auction in a Facebook post says."One of Marvin's wishes were his animals to be sold at auction as soon as possible. This is an absolute auction and complete dispersal of his animal collection."
Check out the post below:
Alachua County Fire Rescue's deputy chief Jeff Taylor was quoted as saying, "A couple of people from our crew had to dodge the bird themselves. My understanding is these birds are fairly shy around humans but if they are provoked or they have an opportunity they will be very aggressive. It may be they saw him fall and had an opportunity and decided to attack." Dog Killed Owner? British Farmer Crushed to Death by Forklift Truck Accidentally Driven by His Pet.
The cassowary is the world's third largest bird. It is listed among endangered animals and is considered quite dangerous. The San Diego Zoo says, they cannot fly and use their claw to protect themselves. Cassowaries can jump up to seven feet in the air and swim. Their three-toed feet have a "dagger-like claw on the inner toe that is up to four inches long". It can run up to 31 miles per hour through the dense forest underbrush, the website states.