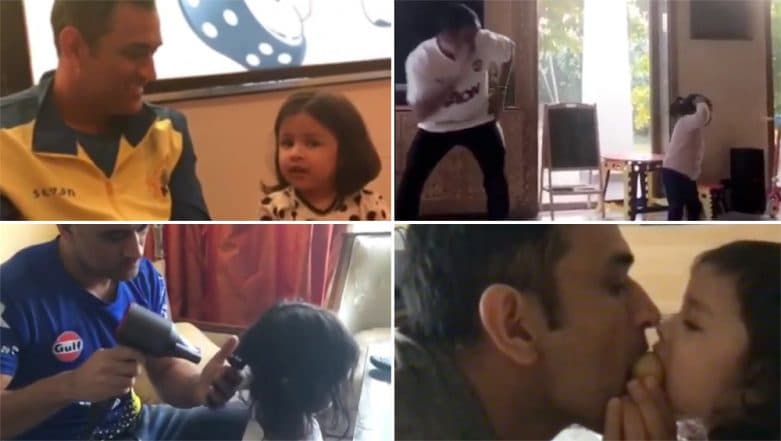 Mahendra Singh Dhoni has successfully donned many roles in his career, be it skipper of the Indian team, wicketkeeper behind the stumps or a finisher. But there is one more amazing quality of the Indian cricketer which proves that he is a fantastic family man. The former Indian captain is celebrating his birthday on Sunday, July 07.
Dhoni's relationship with his daughter Ziva is something which has always been very crucial and noticeable part of his life. The father-daughter duo has always come up with cute and funny videos to mesmerise their fans and followers on social media. These videos of Ziva and Dhoni has been some of the most loved videos on Instagram among Indian cricket fans.Ziva Dhoni and Rishabh Pant Are Adorable In This Roar Video From India vs Pakistan, ICC CWC 2019 Match!. 
As the Indian wicketkeeper turns 38 today, we look at some of his most adoring videos of entertaining moments with his daughter Ziva, which Mahi has shared on his Instagram account from time to time. MS Dhoni and Ziva Are The Cutest Father-Daughter Duo Ever! See Their New Pics Posted by CSK Ahead of Their Match Against DC in IPL 2019 Qualifier 2.
MS Dhoni…the teacher
MS Dhoni proved that along with being a fantastic father, he is also the best teacher of his daughter. Look at the cute video below in which he gives language lessons to Ziva.
How do you do Ziva?
View this post on Instagram
Chilling on the beach with Ziva
Captain cool really knows how to chill at the beach along with his cutie pie Ziva. In this video, MS is seen playing with his four-year-old Ziva in the sand while her mother Sakshi captures the cute moment on camera.
Fun time in the sand!
Dhoni dancing to Ziva's tune
Ziva is a dashing dancer in her little age and this time, the sweetie teaches some dancing steps to her dad. Dhoni can be seen in some different actions other than cricket in the video.
Cricketer turns dancer!
View this post on Instagram
MSD combing Ziva's hair
With a Mohawk style on his own head, Dhoni nicely combs hairs of Ziva with a hairdryer. The cute video reveals how caring Mahi is when it comes to Ziva.
Hairstylist Dhoni !
View this post on Instagram
Sweet Hunger Games!
The video has a double dose of sweetness as MS shares a sweet with Ziva, who looks too hungry to have a bite. As MS tries to eat the whole laddoo himself, Ziva joins him to bite her part of the sweet.
Eat Sweet Challenge!
View this post on Instagram
There are no doubts that when it comes to enjoying time with Ziva, Dhoni is a pure entertainer like he is also on the cricket field. The Indian captain is currently busy with the ongoing ICC Cricket World Cup 2019 in which the Indian team is set to play in the semi-finals.