Pakistan Senator Rehman Malik is currently in the state of embarrassment after he accidentally tagged UNO Game, instead of the United Nations Organisations. People online did not miss the Twitter gaffe and began to troll the country's former Interior Minister hilariously. In the viral blunder, Malik was sharing a tweet by ANI on the current situation of Srinagar in Jammu and Kashmir, after the revocation of Article 370. Much to his dismay, he tagged the card game and India's Prime Minister Narendra Modi. His tweet in no time went viral, with people highlighting his error. Donald Trump Calls Prince Charles The Prince of 'Whales' in a Viral Twitter Gaffe, Netizens Facepalm. 
The situation in Kashmir is dire, and Malik has openly criticised the Indian government's move on banning communication and abrogation of Article 370 and Article 35A in the state. It was in one of such tweets, that he shared ANI's report where Congress leader, GN Azad described the current situation in Srinagar. He wrote, "these are ur own leaders and hear them what they are saying about the brutalities in IOK,"' while tagging Narendra Modi and UNO game.
Here's a Screenshot of the Tweet: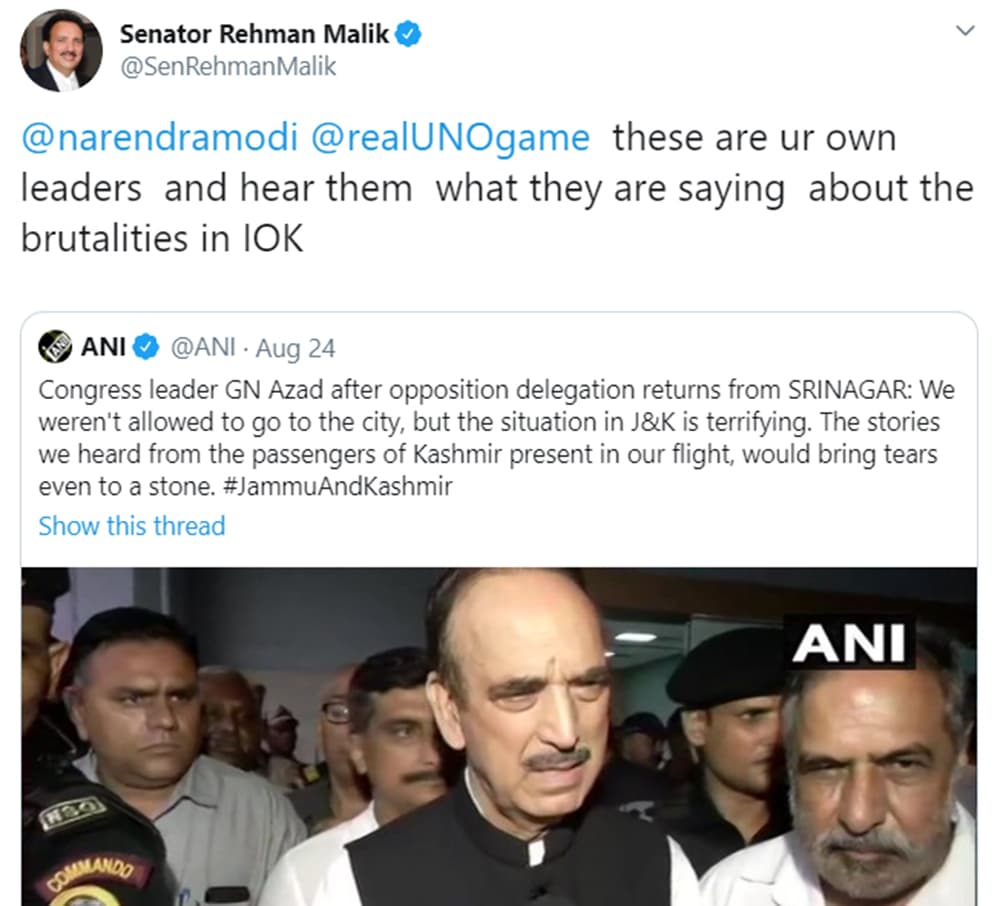 Twitter Could Not Overlook the Gaffe!
UNO...... pic.twitter.com/eiiy5EkjoX

— NiTiN (@nitin0131) August 26, 2019
UNO???? Really?

— LuciRu (@iRumii_B) August 26, 2019
It Made the Netizens Go!!
— Dev - Bhartiya 🇮🇳 (@Peaceful_Foodie) August 26, 2019
When it comes to major Twitter blunders, it has mostly been the US President Donald Trump, who would embarrass himself amid many serious issues. In this case, we are not sure if Pakistan's Senator has realised his mistake or not. The tweet is yet not corrected, and it remains as it is on his Twitter account.
(The above story first appeared on LatestLY on Aug 26, 2019 08:20 PM IST. For more news and updates on politics, world, sports, entertainment and lifestyle, log on to our website latestly.com).