Ever since, the US President Donald Trump took office, there have been more controversies, with a number of issues, sometimes light-hearted though, thanks to his use of Twitter. Once again, the President of the United States of America has appeared on the headlines, and the reason is his recent tweet on his state visit to the United Kingdom. President Trump has been left red-faced after he called Prince Charles, as the "Prince of Whales" in a Twitter gaffe. Naturally, his tweet went viral, and in just a few minutes, it grasped a number of reactions. The netizens facepalm themselves over his major blooper. Penis Welcome for Donald Trump Near Airport During UK Visit as Part of Climate Change Protest.
In the now-deleted tweet, Donald Trump wrote, "I meet and talk to "foreign governments" every day. I just met with the Queen of England (U.K.), the Prince of Whales, the P.M. of the United Kingdom, the P.M. of Ireland, the President of France and the President of Poland. We talked about "Everything!" Should I immediately call the FBI about these calls and meetings?" The tweet which has now been deleted, took no time to go viral, as Twitterati ruthlessly trolled the US President. Camilla Parker Bowles' Wink @realDonaldTrumpLeaves Internet in Splits! Check Funny Memes & Jokes That Have Taken Over Twitter. 
Here's a Screenshot of Donald Trump's Tweet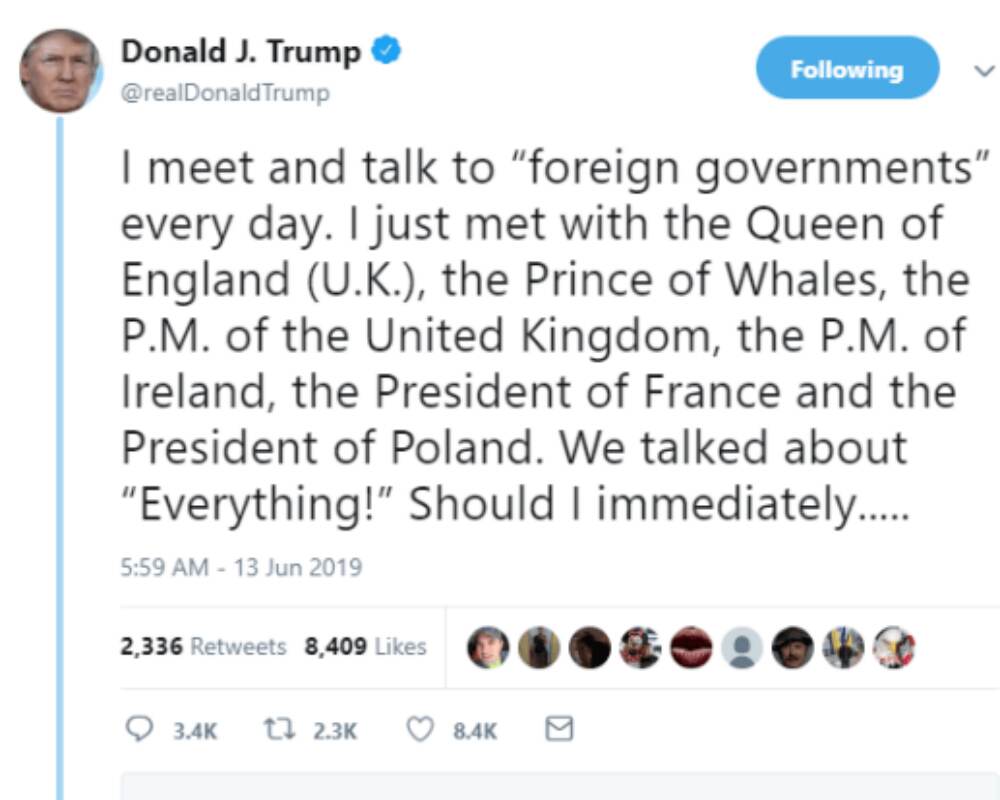 The major blunder, which has now been deleted was there on Trump's twitter account for above 20 minutes at least.
Netizens Did Not Leave the Opportunity to Troll Him
— GeorgeWeahsCousin (@WeahsCousin) June 13, 2019
Did You?
"The Prince of Whales". Very funny, Donald Trump. Did you do that on porpoise? pic.twitter.com/EbivrOLVLV

— Prince Charles (@Charles_HRH) June 13, 2019
Every Netizens Face-Palming Today
"Prince of Whales" 🤦🏻‍♂️ pic.twitter.com/n1w3l4XKrI

— Graeme Cunningham (@graeme_mfc) June 13, 2019
Following the worldwide mockery on social media, the tweet has been deleted. He soon corrected the blunder and this time addressed Prince Charles as the "Prince of Wales," in his tweet. In his state visit to London, Donald Trump met Prince Charles and his wife Camilla and also enjoyed a banquet with Queen Elizabeth at Buckingham Palace. We don't know if Trump's visit has strengthened the ties between the two countries, but it definitely gave netizens a lot of viral moments.