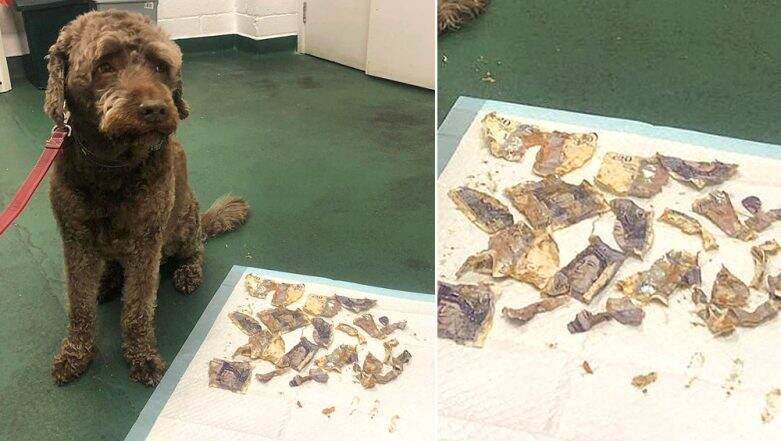 Pet dog owners would know the troubles of having a naughty one at home. These dogs are ones who have to be constantly looked over for their mischiefs. An owner of one such naughty labradoodle had to pray a heavy price when her pet dog Ozzie ate a bunch of currency notes worth £160 (Rs 14,500). Ozzie decided to gobble up an envelope in the letterbox. And then to get the notes out of her body, the owner Ms Wright had to pay about £130 to the vet. Pet Dog Plays With Dildo He Found Inside Neighbours' Package; Owners Embarrassed, Watch Funny Video.
Judith Wright, a resident of North Wales had to rush her nine-year-old crossbreed pet to the veterinary clinic when their parcel of money was chewed down by Ozzie. Talking to The Sun, Ms Wright said, "Someone owed us money and popped it through the letterbox, that's how Ozzie got hold of it. The vet managed to retrieve the notes along with a plastic money clip - Ozzie had eaten the lot." The notes in denomination of twenty were largely torn up, semi-digested, half and some were brown. Man in China Trains Pet Dog to 'Supervise' His Daughter Doing Homework, Adorable Video Goes Viral.
View Picture of Ozzie the Dog Who Ate Up Money:
The couple is hoping that they would be able to return at least four of those notes and get it reimbursed from the Bank of England. The couple had to pay quite a price to ensure Ozzie spews out what he chewed. The vets at the clinic also said they hadn't encountered a case of a dog eating up money. Ozzie has been known to chew on some stuff but she had never eaten money before, as mentioned by his owners. Now the couple is sure of getting a cage fitted to their letterbox.