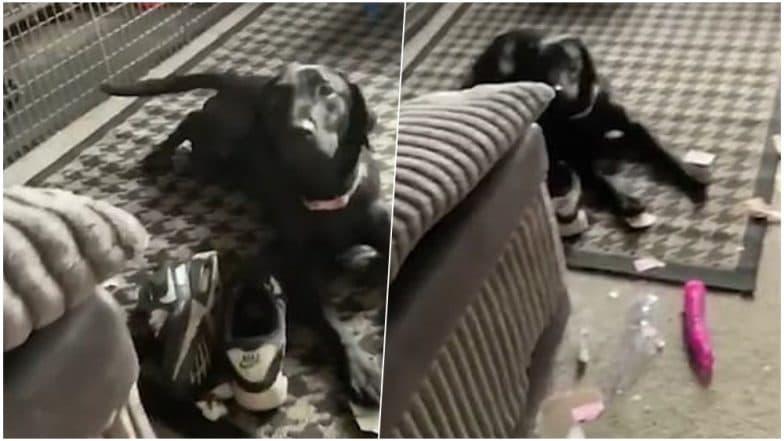 Dogs aren't the best around gift packages. Their curiosity sparks on seeing a new package in the house. Most often, other than just sniffing it, they find some pleasure in tearing open the gifts. A pet labrador who chose to rip apart a package from their neighbours, ended up leaving its owners red-faced, as inside was a bright pink dildo! The owner made a video of Bonnie lying next to the ripped box and the dildo, and needless to say its amusing everyone on the internet. Golden Retriever Pup Accidently Locks Himself Out; Clever Dog Uses Video Doorbell to Get Back in the House.
Lee Edwards and partner Jenna Crozier live in Wigan, Manchester with their pet Bonnie, a black labrador. When the neighbours' family was away, they took their parcel and tucked it behind their door. But much before they could hand it over to the neighbour, Bonnie got hold of it and like any naughty dog, it tore the parcel open. The pair discovered it a little too late, when Bonnie had completely opened the package. Inside was a sex toy, a bright pink dildo, which fancied Bonnie too and kept playing with it. Shocked at their pet's doing, Jenna kept the sex toy in a bag which she later handed it over to her neighbour. Meet Remus, a Dog Which Responds to Harry Potter Spells! Watch Cute Video.
Watch Video of Bonnie The Dog Who Opened The Neighbours Parcel of a Sex Toy
As we can see, Lee Edwards is clearly embarrassed by what his pet has done. And the clueless pet seems too fascinated by his doing. Ironically, Lee is a dog trainer, which makes things more awkward for him. In a lighter moment, he was quoted to Daily Mail, "I didn't want to touch it and didn't want the neighbour to think I'd touched it so I cordoned it off like a crime scene. It's embarrassing but you can see the funny side of it." He also mentioned how Bonnie thought it was a toy for her and kept chewing on to it, even expecting the owner to play fetch with her.
The couple even apologised to their neighbour and told that their dog was the culprit. The neighbour too hasn't seen them later. Well, this one is a classic example of how sometimes your pets can embarrass you.