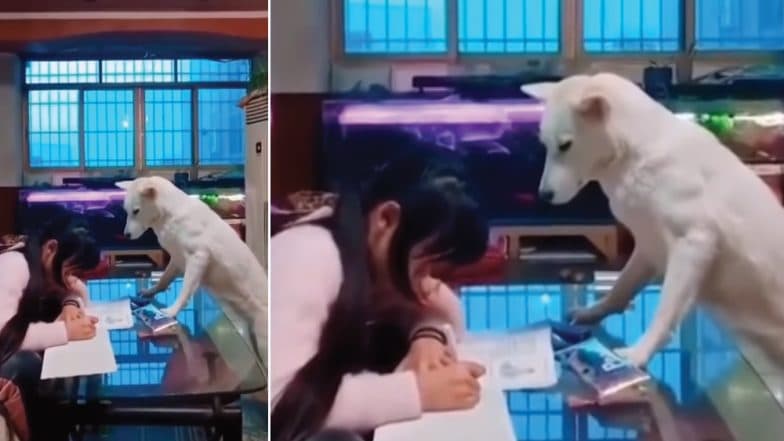 Haven't we seen enough of dog videos, where the dogs eat homework? Well, that's one excuse given by many young ones for not completing their homework in school. But here is a dog that gets the homework done! Yes, a video of a dog shows he ensures the child is doing her homework. He is trained for it. A clever dad found a way to ensure his daughter is concentrating on her homework instead of checking her phone. This father from China has trained their canine to keep a watch on the little girl while she is doing her homework. A video of the same has come up online and it is so adorable to see the dog standing up and checking this girl's homework. This adorable video is going viral. Mom Catches 6-Year-Old Using Amazon Alexa to Finish His Maths Homework, Funny Video Goes Viral.
For a parent, it can get troublesome to get their kids' homework done on time. Most of the children hate doing their homework, they just end up forgetting it altogether. And thanks to the easy accessibility of technology at disposal, most kids these days are glued to tablets or smartphones. This dad too found his daughter glued to a smartphone, playing games when she was supposed to be completing her homework. He then decided to turn up to their pet for help. He trained the canine who now keeps a watchful eye on the little one as she finishes her homework. Chinese Girl Buys a Robot to Do Her Homework and She Can Enjoy Holidays; Mother Destroys It! Ouch.
Watch Video of Dog Trained to Supervise Girl's Homework
Isn't it adorable? The pet does stand there and look at the child like a strict mother would. There is no chance for the girl to get distracted with her pet right in front, diligently looking at her studying. The father has been training the dog since it was a puppy. He was quoted to a video news site Pear saying, "I pointed at the coffee table and told it to watch my daughter as she does her homework. It would then guard her and make sure she doesn't reach for her phone." This pet has the responsibility of not just guarding the house, but also ensuring the daughter completes her homework.