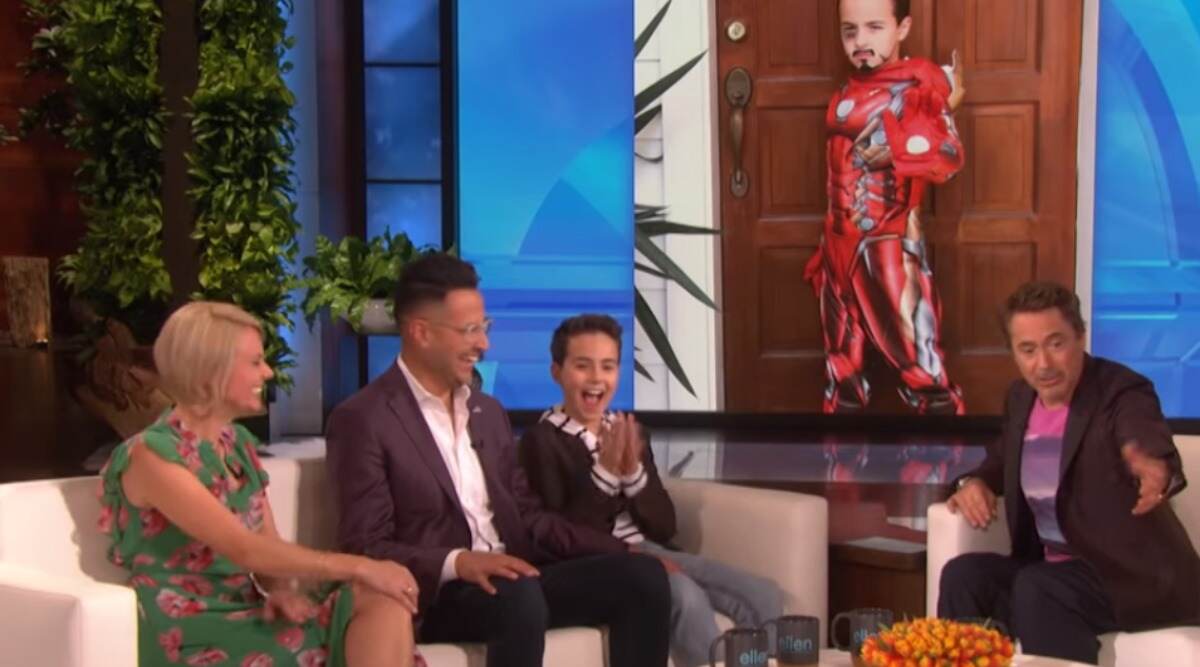 Ellen DeGeneres is known for making people's biggest dreams come true and one such incident happened recently on her show. On Tuesday, a 10-year-old boy with autism met Iron Man on The Ellen DeGeneres Show. The boy has a special attachment with the Iron Man as he believes the character helped him regain his ability to speak. Vincent Arambula was accompanied by his parents Nicole and Andy on the show. During the interview, Vincent explained how the Iron Man helped him in talking. Love Is Love: Ellen DeGeneres Promises to Walk Lesbian Couple Down the Aisle After Their Parents Disapprove (Watch Video)
Vincent lost his ability to talk when he was just 12 months old. He was thereafter diagnosed with autism at the age of four. Later, it was an Iron Man mask gifted to him at the age of 6 which gave him the ability to speak. He says that the mask helped in regaining the confidence.
Talking about Vincent, his mother said, "Well, we had a lot of red flags that kind of cropped up, just behavioural. She added, "After consulting with family members—I have a nephew on the spectrum, as well—and my sister-in-law actually pushed for us to have him tested for autism and got a confirmed diagnosis." Bollywood Movies That Have Depicted Autism.
Boy With Autism Meets Robert Downey Junior on  The Ellen DeGeneres Show:
Robert asked Vincent, "Wow. Everybody here can relate to that sense of wanting to communicate and not being able to. What did that feel like? What was your experience with that?" The 10-year-old replied, "It was painful." His father elaborated saying, "It was really painful for him," Andy said. "Now that he has a voice, I go back and I ask him. 'Hey, tell me about what you were thinking that day,' or 'Tell me about this time.' And some of the things he talks about is not being able to make friends back then. Having the ability not to tell us what's going on in his life."
Vincent said that it helped him talk and play with the imagination. Robert said, "Look, for me too, it's so wild to play this character. There is something, I think for all of us, that when you can wear a mask, whether you're doing theatre at school, Halloween or whatever. I had a particular affinity. You and I did the same. Mask, for some reason. He gave us a voice. Why do you think it helped? " Vincent replied, "It helped me talk. It helped me hide my identity from the world."