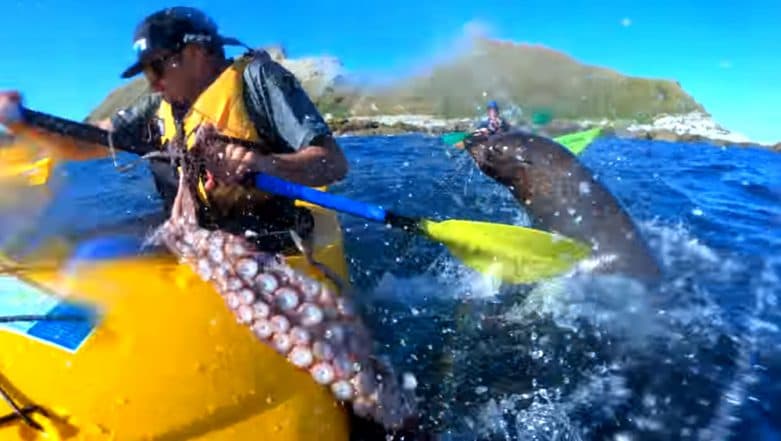 A kayaking trip is an experience in itself, to learn to balance on the kayak in the ocean and enjoy the vast blues, is definitely an adventure. But a kayaker got more than he asked for, and not in a good way on his trip to New Zealand. The kayaker not only got a view but he got it slapped in his face! A seal came out and slapped him with an octopus on his face. The video of the entire incident is going viral on the internet. Octopus Grope Woman Diver's Butt: Video of Flirty Eight-legged Sea Creature Goes Viral. 
Kyle Mulinder, a 37-year-old was enjoying a trip of New Zealand's Kaikoura island. Although he was not alone, the group saw several seals around them when it was lunchtime. The group did observe the seals coming around but no one would have expected them to be so randomly violent. Mulinder is a GoPro Ambassador, and his friend Taiyo Masuda from Australia happened to capture the video on his waterproof device, and now it is there for the world to see. Starfish, Octopus & Other Marine Animals With Giant Hailstones Rain From China Sky! Watch Video of Powerful Storm. 
Take a Look at the Video of the SealSlapping the Kayaker With an Octopus
Talking about the incident Mulinder was quoted to Yahoo News, "We were just sitting out in the middle of the ocean and then this huge male seal appeared with an octopus and he was thrashing him about for ages." So the seal and the octopus were already struggling inside the water, a probable fight of rescue from death. But the seal happened to emerge out of the water and suddenly slapped it on Mulinder's face.
It was a brutal slap but as an instant reaction, even the other group members laughed out loud. Mulinder too was shocked at it and did not realise what just happened. Although he did get hurt by the scales of the octopus. "It was weird because it happened so fast but I could feel all the hard parts of the octopus on my face like 'dum dum dum'," he said. Well, indeed the encounter was more than he could have ever imagined.