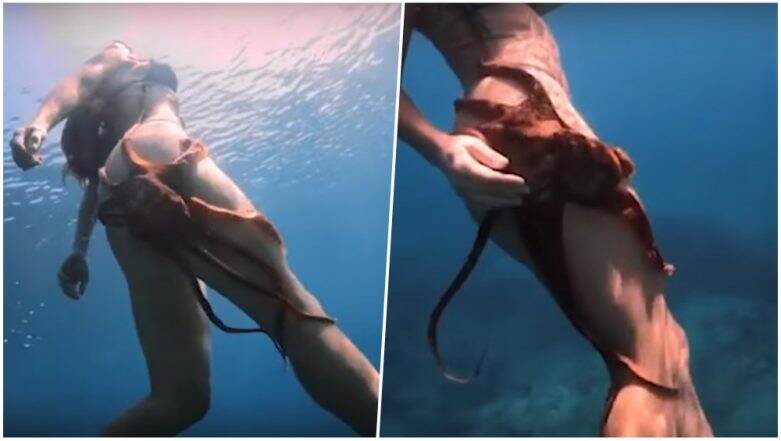 Marine life lovers consider octopus to be an intelligent creature. Each of their eight tentacles is said to have a mind of its own. But they are cutely mischievous too. We have seen many videos of octopuses, but this one is the most bizarre by far. In Oahu, Hawaii a woman was enjoying a session of underwater scuba diving but was surprised to see when one of the eight-legged creature groped her. The flirty octopus was definitely fascinated by the beautiful woman diver, as it opened the arms and hugged her butt. This adorable moment was captured by Ocean Videographer Shane Brown which eventually went viral.
He was quick to record the stunning interaction between the mollusca and his diving partner, Jess Grub which has been shared by New York Post. As the diver was having a pleasant time underneath the ocean, the flirty octopus did not leave her once, enjoying their time together.
Watch video of flirty octopus as it gropes woman diver's butt! 
In the video it can be seen that the female diver boldly carried the eight-armed sea creature, adoring her. It appears, this wonderful species also need love. Researchers have proved earlier and termed octopus to be impressively intelligent from behavioural evidence. The actions are shaped in part by their needs; the kind of mind they have depends upon their environment.
Apart from embracing their beauty and intelligence, humans have often poked at them by shutting these creatures inside aquarium tanks and also grilling them with slices of lemons. But just pause for a while to consider how clever and cute these creatures are.