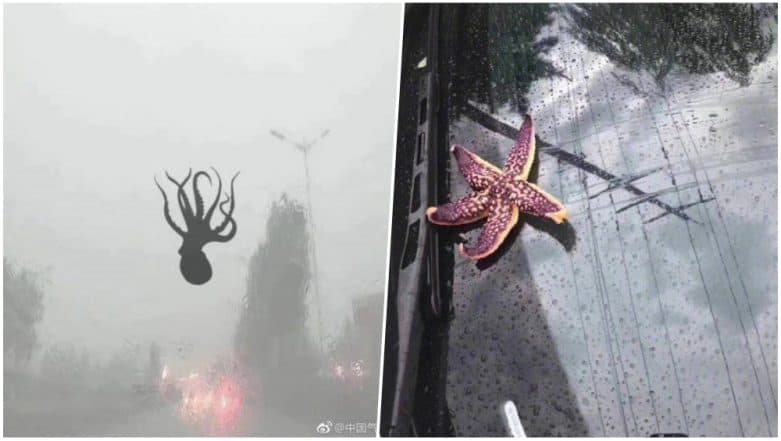 In an unusual moment, China's citizen witnessed starfish, octopus and other marine animals including giant hailstones fell from the sky after a powerful storm hit the city in Shandong Province. To what the netizens have described as "seafood rain," images were flooded in social media where different creatures which were sucked out of the sea are stuck to car windscreens after the rain storm. According to the Qingdao Meteorological Administration (QMA), the violent weather was recorded in the late afternoon on June 13. Hurricane-force winds blowing at 34.8m/s registered as a 12 on the Beaufort scale; which measures the speed of wind.
Many pictures were posted on social media, huge hailstones, few size of golf balls which caused huge damage to the buildings and vehicles. While the shower of sea creatures may have been caused by the storm sucking them out of the ocean and carried onto the streets. There have been some other speculations as well. Few images have been reported of the seafood being blown from nearby stalls in the road.
Watch video of seafood rain in China.
The city's QMA service informed that the wind speeds were so high that the storm set a new all-time record for June. The raged wind caused extensive destruction in the city. Reportedly, it threw huge hails, octopus, starfish, molluscs and slapped them on car windows and streets. Such instances if marine lives being sucked out of their habitats due to forceful weather conditions are not rare. Last year, in November a similar phenomenon occurred in Sri Lanka when thunderstorm hit one of its villages; Jaffna. Within past two years, such events have been logged in Mexico, the United States and Iran.