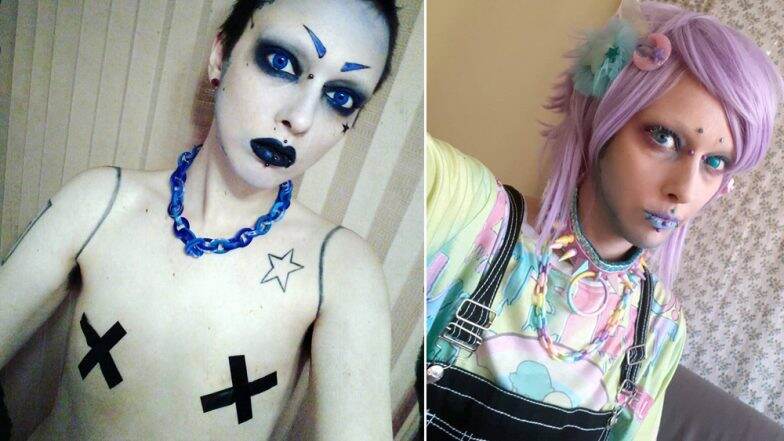 There are those who are awaiting any news or face of aliens and then there is this person who now wants to live as an alien! Jareth Nebula, a 33-year-old transgender has decided to let go of the concept of gender altogether and stay as a sexless alien. And that's not the only claim, to make sure he sports an appearance of an extra-terrestrial, he has shaved off his eyebrows and got his nipples removed as well. #TransLooksLikeThis Goes Viral on Twitter With Transgender People Are Sharing Their Experiences for Not Being 'Trans Enough'.
Jareth was born as a woman and decided to transform at the age of 29 into a man. But 4 years later, he wants to give up the concept of gender and live as an alien. He works as a receptionist in a barber shop and lives alone. He does not want to be addressed as he or she but would not mind being called a thing or referred to as it. To be a part of the outer world, he has 78 stars on his body and wants to increase that number to 333. Purple Aliens in The Universe? Study Suggests New Dimension into Search for Extraterrestrials.
View Pictures of Jareth Nebula Who Wants to Live As a Sexless Alien
View this post on Instagram
Alien Feels!
View this post on Instagram
No Nipples!
View this post on Instagram
Talking about his journey of changing genders to be identified as sexless he was quoted to The Mirror, "I don't think or feel like humans. I can't really explain it to others - I'm simply otherworldly.I didn't feel comfortable as either gender or even anything in between. I know I'm stuck in a human form and that's how I'm perceived by others - but to me, I'm an alien with no gender." He further mentioned that when he learnt about the term agender, he felt it was perfect for identity. And he is totally obsessed with aliens so he decides to live as one.