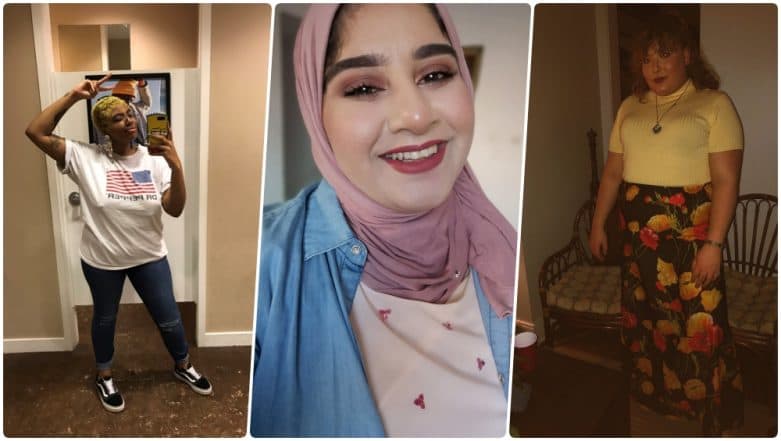 Transgender people come from all walks of life. There are more issues they face on an everyday basis than one can think of. Despite the increased visibility of transgender people in the media today, many are often mocked for being emotional in regards to the choices they make with their bodies. Medically transitioning is not smooth for any transgender person and the reasons could vary. A Twitter hashtag that has gone viral is encouraging people in the transgender community from various backgrounds to share their personal experiences after the medical transition. The hashtag #TransLooksLikeThis is bringing light to the discrimination some of them face for not being "trans enough", not having a top surgery or being on hormone therapy. Angela Ponce at Miss Universe 2018: Miss Spain and Transgender Contestant Reveals Her Desire to Become a Mother. 
Twitter user @wondyful initiated the hashtag, and it was first reported by The Daily Dot. In a series of tweets, the user shared his everyday experience for not being socially "trans enough" and urged the community to voice against it and love who they are, "because at the end of the day being transgender doesn't come with a set look, it comes with just being you!!" reads one of his thread. Tinder Adds Transgender, Trans Man, Trans Woman and Other 20 New Gender Identity Options for Indian Users. 
Here Begins His Thread!
tired of being told im not trans/not trans enough like.... boys wear makeup and have boobs and guess what?? ITS VALID 🤠 #TransLooksLikeThis pic.twitter.com/mTFKRMN6if

— odd eye by shinee (@wondyful) January 3, 2019
not everyone can transition for many reasons and that doesn't make us any less trans than someone post-op and years on HRT, we're all siblings at the end of it so please let's support each other

— odd eye by shinee (@wondyful) January 3, 2019
(4/4) and for that reason im starting a hashtag called #TransLooksLikeThis because at the end of the day being transgender doesn't come with a set look, it comes with just being you!! please rt/like this so it gets traction!! and @ me in all ur posts i wanna rt all of you cuties!

— odd eye by shinee (@wondyful) January 3, 2019
The hashtag certainly inspired many from the transgender community who did not shy away sharing their stories.
Non Binary Queer Living in a Binary World & They are Happily Trans.
#TransLooksLikeThis im a nonbinary boy (he/they) im proud of who i am, and I am enough. Thank you to @SteelballMyles my loving boyfriend for pushing me to be confident and love myself. And thank you @gothfruits for being so damn inspiring and giving me the courage to post this ❤ pic.twitter.com/3ENyJ3OuSZ

— 🔥🔥 sickie mode 🔥🔥 (@Kiervocado) January 3, 2019
black nonbinary queer boy, at ur service. my femininity IS my masculinity 🤷🏽‍♂️ full face of makeup n im still that nigga

he/they #TransLooksLikeThis pic.twitter.com/lTt97OzF13

— 🕊 (@airsignclub) January 3, 2019
HI I'm your fat nonbinary friend (they/she) pic.twitter.com/7zFJqI939H

— Em ⚡ Preorder Reverb (@bookjinni) January 3, 2019
The idea being trans or gnc means u gotta look one way is absolutely ridiculous. But it makes me happy to see that people are fighting against that idea and are showing that we all walk different paths and that's okay! I'm Kaye and I'm agender. They/Them!#TransLooksLikeThis pic.twitter.com/y1rE3wPoX9

— BITCH RISING 🐩💕 (@Werewoozi) January 3, 2019
The stories also revealed the intersectionality of race, class, age and body positivity in the transgender community.
never do these but friendly reminder that trans is nonbinary, trans is asian, trans is what u make it! happy 1 year on T to me 😌 #TransLooksLikeThis pic.twitter.com/VNenStzNrN

— lee (@punkcorgi) January 3, 2019
#TransLooksLikeThis ok I'm old af, and only been out for a year... but this trans nonbinary person is loving the hashtag so I have to join in! 🌈😘🎨🌈 pic.twitter.com/gKMgpeNcIG

— code diva 🌈 (@codedivagames) January 3, 2019
#TransLooksLikeThis surprise! There are fat trans people, and we don't need your Eurocentric and toxic body standards to exist! Also, just cause I'm super femme doesn't mean I'm binary!!! Support trans NB femmes and folks pls☺️ she/they pic.twitter.com/h2wBrl16Zc

— Ruti Saris Greenfield🧙🏼‍♀️ (@rutituti57) January 3, 2019
And Here's A Trans Happy Family!
#TransLooksLikeThis happy and loving family pic.twitter.com/A9QsJ3k1nn

— sylverfyre (@sylschinco) January 4, 2019
The tweets teach us so many things about self-love. Transitioning is the process of changing the way you look and how people see so that you become the gender you feel on the inside. To some the medical procedures can be very expensive, some might have specific health issues and most importantly not all people want to go through all the available medical procedures. Someone's gender identity should always be respected no matter how they decide to transition—socially or medically.