We do not battle an eyelid after seeing melodramatic anchors shouting on our television sets anymore. Viewers have accepted the new-age style of anchoring where a journalist would be yelling their lungs out or simply being obnoxious on the live TV. But time and again, we come across persons who clap back at such cringe-worthy acts. This time around it is Rawalpindi Express aka Shoaib Akhtar, Pakistan fast-bowling legend who taught a disrespectful Indian TV anchor some great lessons on manners and public speaking in this viral video. The grace and politeness with which Shoaib handled the arrogant female journalist earned him massive love and support from cricket fans. Gautam Gambhir Takes On India vs Pakistan Battle to Live TV; Shuts Up Pakistani Media Panelists in This Heated Debate: Watch Video.
Gone are the days when media persons were responsible for every word written or spoken in public. Sad but true, their loose talks are too frequent to keep a tab on. And the frequency of such talks increases when matter revolves around the sensitive India-Pakistan issues. The two countries do not share a warm relationship, so, when their sides meet in any sporting event, it is dubbed as a battle by the media of both countries. A similar incident happened when an ABP News reporter tried to mock Shoaib Akhtar on her show ahead of India vs Pakistan game in the Super Four stage. Asia Cup 2018 Schedule of India Matches for Free PDF Download: Timetable with Fixture & Dates When Indian Will Play Including Pakistan Clash.
After introducing Shoaib Akhtar to the debate panel, the journalist began by making a statement about Swachh Abhiyan, a nation-wide cleanliness campaign in India and how Team India seems to have taken it too seriously. The overenthusiastic reporter continued by asking Shoaib if his (Pakistan) side is ready for "dhulai" (ready to get beaten) at the hands of Men in Blue. At this point, you can see Indian cricketer Gautam Gambhir, also a part of the panel break into a smile out of shock. However, Shoaib chose not to react and instead handle the disrespect with much grace.
Watch Video of Shoaib Akhtar Schooling a Rude Indian TV Reporter
In his response, Shoaib began by politely saying, "dekhiye mujhe nahi pata aapka naam kya hai, khatun (I do not know your name, madam)". He then reprimanded for her crass mockery in the guise of a question. Shoaib told her to stick to questions pertaining to cricket and tactics and not mix up uncalled for tomfoolery. What was absolutely admirable about the legendary Pakistani cricketer was the manner in which he chose to handle the situation. He reminded the rude reporter of his stature but without losing his cool and calm.
Cricket Fans Come Out in Support of Shoaib Akhtar!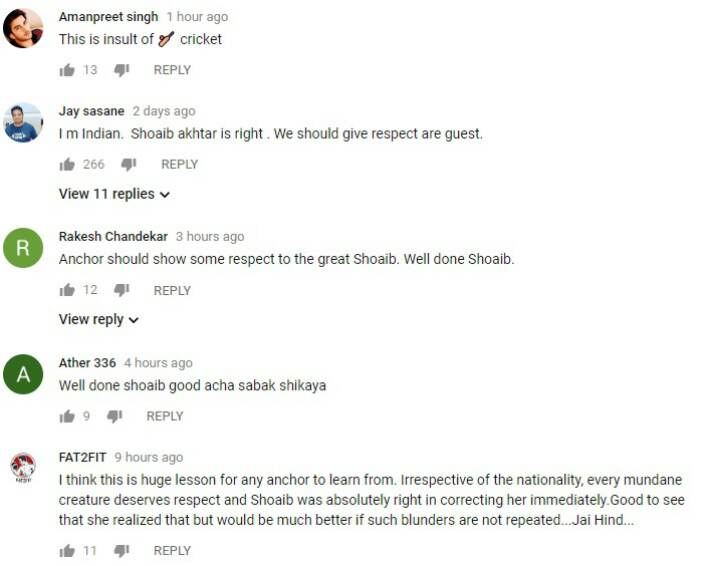 The video of Shoaib Akhtar schooling the anchor went viral in a matter of a few hours. Cricket fans from both India and Pakistan were completely in love with the cricketer seeing his calm demeanour. While many chastised the insulting behaviour of TV journalist, but they were completely floored by Shoaib Akhtar's reaction. After all, he is Rawalpindi Express, and no one dares to mess with him. During his playing days, he was a nightmare for batsmen and after this incident, reporters better learn articulate their questions properly before daring to take him head-on.