After a dreadful tour of England, where India lost both ODI and Test Series, the Indian team would be looking to return to winning ways, as they being their Asia Cup 2018 campaign from September 18. If you are looking for the full schedule of Asia Cup 2018, then you can find the PDF file for download below.
The multination tournament is scheduled to begin from September 15, and the final of the 2018 Asia Cup will be played on September 28. The tournament's fixtures drew sharp criticism from the cricketing fraternity as the Indian team will have to play back-to-back matches on September 18, and 19 consecutively.
A total of six teams – India, Pakistan, Bangladesh, Sri Lanka, Hong Kong, and Afghanistan – will be participating in the tournament to lay their hands on the coveted trophy. The teams have been divided into two equal groups, after which they will be competing in a Round-Robin format. Asia Cup 2018 Schedule in PDF for Free Download.
While Virat Kohli has been rested from the Asia Cup 2018, Rohit Sharma will be leading the team and will be looking forward to winning his third series as a captain. The first match on September 15, 2018, will be between Bangladesh and Sri-Lanka.
While eight on Indian team members including Rohit Sharma, MS Dhoni, Kuldeep Yadav, Axar Patel and a few others have made it Dubai, rest of the squad with KL Rahul, Jasprit Bumrah, Shikhar Dhawan are expected to fly to UAE on September 16, 2018. Obviously, the Indian fans will be eager to block the dates of their team's clash. Here is the image of India's schedule and the same can be saved as a PDF too.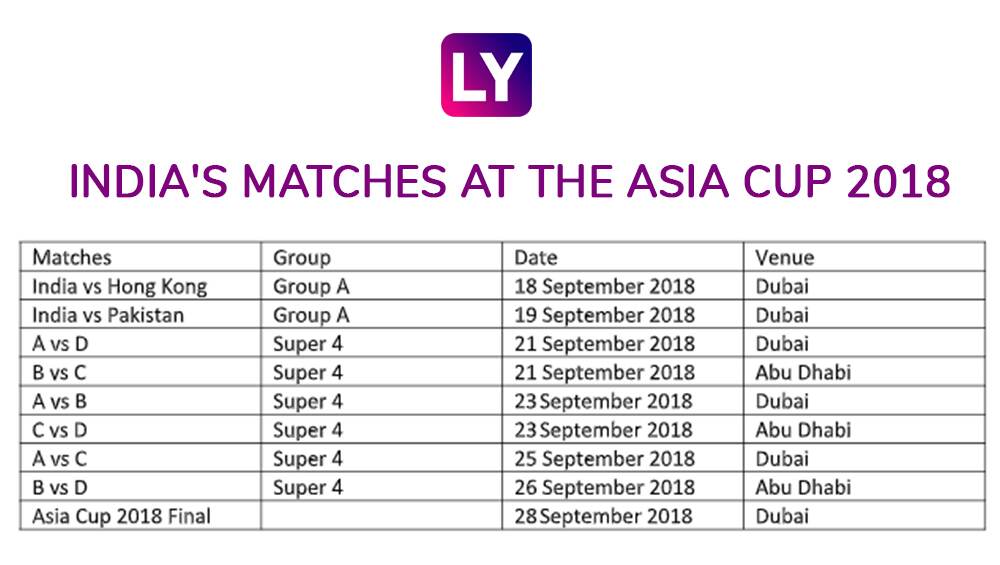 India will be playing the most awaited match against Pakistan on 19 September 2018. If everything falls in place in the Group stage, for India and Pakistan then the two nations could lock horns thrice in the tournament.  One in the Group stage, second in the Super 4 and the other in the finals.
India and Pakistan are fan favourites to win the Asia Cup 2018. However, Sri Lanka and Bangladesh can spring a surprise too. Well, it is too early to predict a winner in the multination tournament, and why not! With cricket, nothing is predictable. Let us know whom you think can will the Asia Cup 2018 champion?