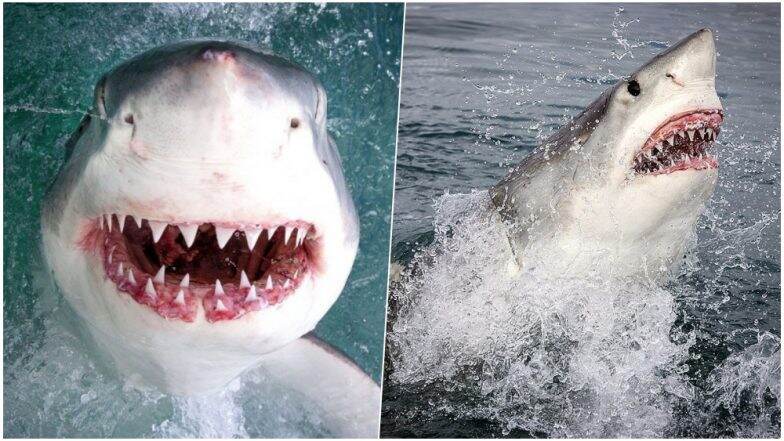 Coming in close encounters with sharks can be such a terrifying moment. But a photographer has tried to make his moment memorable by capturing a terrific picture. It is apparent that his subject was smiling, but in the process, showing his big teeth can get the viewer terrified for sure. Scott Davis from Monterey in California was leading a photography trip when he got too lucky to get this shot and yet not be harmed in any way. He captured a wonderful picture of a great white shark very closely on his holiday in South Africa. 'Biggest' White Shark Spotted in Hawaii: Divers Swim Together With the Great Predator, Watch Video and Pics.
At first glance, it does look like the big predator fish is smiling but the teeth look so scary. Talking about this incredible shot he was quoted, "The great white shark poked its head out of the water for a closer look at what was going on and was a mere inches away from my camera - his teeth were very impressive." Davis is a marine biologist and he has been studying the deep sea fish on the west coast in US. Looking For Perfect Instagram Picture? Model Gets Shark Bites While Photoshoot.
Check Picture of Smiling Great White Shark Captured by Scott Davis
Simply stunning #shark shot by Scott Davis! 📸 pic.twitter.com/c5u2mfaANS

— Caters News (@Caters_News) February 9, 2019
Marine biologist turned photojournalist, 50, previously studied sharks in U.S.

Between 300 and 500 great white sharks now live off the coast of South Africans pic.twitter.com/t1fsNJqlA4

— Nico Spalato (@NikeSpalato) February 9, 2019
Isn't it amazing? The teeth are impressively scary for sure. For Davis, white sharks have been fascinating from the start but getting such a shot, he was sure lucky. Great white sharks are among the vulnerable species and according to a study, there are only around 300 to 500 great white sharks left off the coast of South Africa.