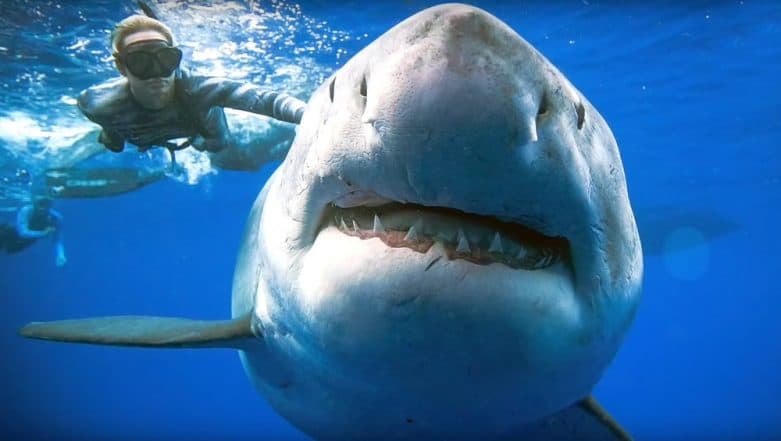 Divers in Hawaii have made a marvellous discovery, although a scary one! A group of divers swimming near Oahu encountered a giant white shark, which is said to be the biggest ever recorded in the world yet. Despite having such a close encounter with the predator, the researchers have managed to survive. The shark was nearly 20 feet long and estimated to be weighing 2.5 tonnes. A shark observer also expressed the possibility that the female white shark was pregnant. This giant fish had markings similar to the 'Deep Blue,' which is the largest one recorded yet. 20-Year-Old Survives a Shark, Bear & Rattlesnake Bite, in Just Less Than Three Years: View Pics.
The team was filming tiger sharks feeding on the carcass of a sperm whale when the giant visitor came by. Ocean Ramsey, one of the divers in the team said, "I'm without words; it's heartwarming; she's probably the most gentle great white I've ever seen." She mentioned that the tiger sharks went away, when the giant white shark brushed against their boat. The team swam with the shark and also managed to get pictures along with the great fish. "We went out at sunrise, and she stayed with us pretty much throughout the day." Watch Video of Naked Man Jumping into Toronto Ripley's Aquarium Shark Tank! Swims Around Amidst Full of Sharks.
Watch Video of the Greatest White Shark Spotted in Hawaii
Here Are Pictures of The Team With Greatest White Shark 
She is indeed massive! The great white sharks are rarely seen near Hawaiian seas, as they prefer cooler waters. But you and I would still wonder, how was this predator so friendly with the divers even in their first encounter? Talking about it, Ms Ramsey explained that pregnant sharks are the safest to swim. They will attack humans only if they are curious and mistake them for their own prey.