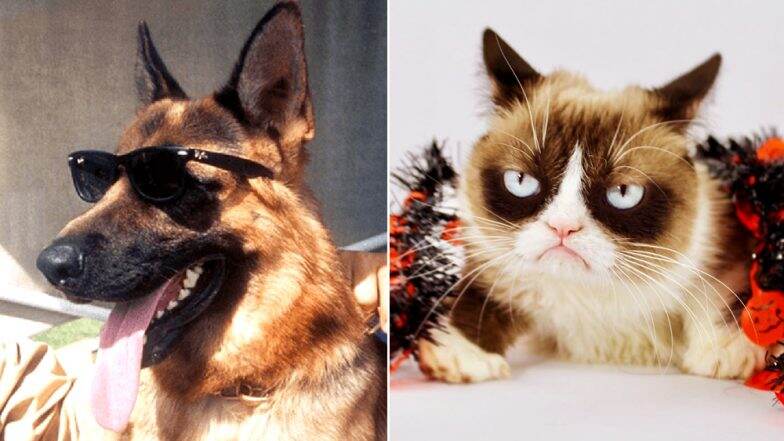 Have you always wondered how the rich make so much money everytime you look at Forbes' list of billionaires? Then probably this list will leave you thinking forever. Insurance aggregator Compare the Market on Thursday revealed a list of richest pets on Thursday. Yes! these pampered cats and dogs are worth a lot of money, ridiculously going upto millions of dollars.
The list doesn't include just moggies and hounds, but also a hen which is estimated at USD 13 million. 'The Pet Rich List' has 35 richest pets in the world whose owners have bestowed them with a fortune. Other than pooches and kitties, they there are also tortoise, parrot, chimpanzee, monkey and a bear. Cuteness Alert! On International Cat Day 2018, Look at Some Top Followed Cats on Instagram
Check out the 'The Pet Rich List' here:
1. Gunther IV: USD 375,000,000
German Shepherd Gunther IV tops the list of richest pets and his net worth is USD 375 million. His dad, Gunther III, was far from a paw-per, inheriting more than 5,50,00,000 from countess Karlotta Liebenstein in 1992. He has his own personal maid and butler and at also dines on steak and caviar. The dog owns huge houses in Italy and the Bahamas. In 2000, he also became the owner of pop singer Madonna's former Miami Beach mansion that costs USD 7.5 million.
2. Grumpy Cat: USD 99,500,000
View this post on Instagram
Your favourite Grumpy Cat who has more than 2.4 million following on Instagram is estimated have a net worth of USD 99.5 million. Tardar Sauce which is a mixed breed is globally famous for her grumpy face which is caused due to an underbite and feline dwarfism. In 2014, a film was made based on her life called Grumpy Cat's Worst Christmas Ever.
3. Olivia Benson: USD 97,000,000
View this post on Instagram
Pop singer Taylor Swift has declared her undeniable love for cats multiple times. Olivia often makes appearances on Taylor's Instagram which has 112 million followers and is much loved by the singer's fans too. The Scottish fold cat is named after Taylor's favourite TV characters, Mariska Hargitay's Law & Order: Special Victims character Olivia Benson. She has a net worth of USD 97 million.
4. Sadie, Sunny, Lauren, Layla and Luke: USD 30,000,000
View this post on Instagram
World popular Oprah Winfrey has five dogs namely Sadie, Sunny, Lauren, Layla and Luke. They often grace Oprah's social media accounts and the media mogul has promised to leave USD 30 million to them in her will. While Luke and Layla are golden retrievers, Sadie is a cocker spaniel and Sunny and Lauren are springer spaniels.
5. Gigoo: USD 15,000,000
View this post on Instagram
Gigoo, a hen was owned by British multi-millionaire publisher Miles Blackwell who left him USD15 million in his will. Blackwell died just three weeks after his wife. He recently sold his business to retire to the country.
While these are some of the richest pets, cats and dogs of Bollywood stars like Alia Bhatt, Anushka Sharma, Priyanka Chopra are also quite famous. Italian fashion designer Karl Lagerfeld's cat Choupette has quite a following on social media and enjoys stardom just like any human celebrity. Facebook CEO Mark Zuckerberg and his wife Priscilla Chan's dog Beast that has over twenty lakh following on social media. What do you think about this list of rich animals? Do let us know in the comments section below.