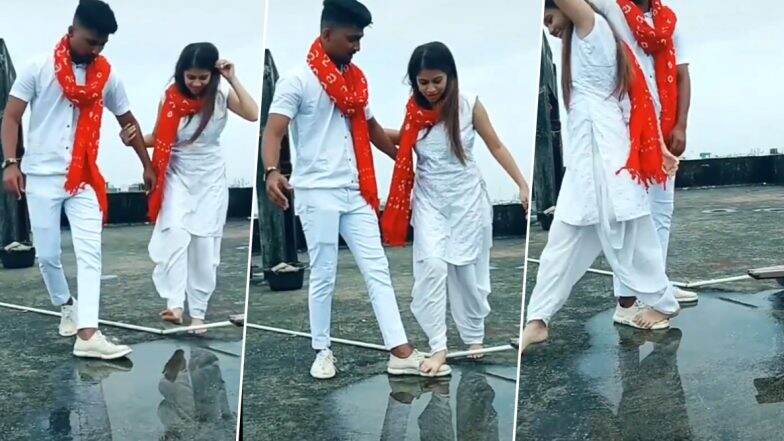 The internet is a wonderful place, especially when it comes to seeking entertainment through funny pictures and videos. Each day there are so many funny videos being uploaded and some of them are absolutely stupid. But one cannot deny that some videos are so bad that they are good. And if you love watching such video clips, then a recently shared video of a romantic couple is going viral. Also, it will make you believe in the popular phrase, "Love is blind." In this video, a guy is seen helping his partner get across a small puddle of water by letting her step on his shoes. The funny catch here being, a lot of space around them is empty. Tik Tok Ban Can't Stop These 10 Hilariously So-Bad-They're-GOOD Videos! Watch Them Here.
The video was shared on Twitter by user @Paprikaashh and it is now going viral. The video is funny, but for some, it may be cringeworthy. Like we mentioned earlier, it is so bad that it is good. Both the girl and the boy are seen wearing matching clothes. The supposedly romantic video is actually going viral for being stupid. The caption of the video, "Coz apparently when you "fall" in love, you lose your mind" is also apt. Gujarat Lady Cop Makes TikTok Video Inside Police Station, Seen Dancing Near Lockup, Suspended; Watch Video.
Watch the Viral Video Here:
Coz apparently when you "fall" in love, you lose your mind🤦🏻‍♀️ pic.twitter.com/aGHT3M3rUj

— 💫 (@Paprikaashh) September 16, 2019
The video has close to 14,000 views and netizens have some of the funniest reactions. The most common being, why couldn't the girl just walk across the floor and had to walk through the puddle itself! Check how some of the netizens reacted.
Nonsense
Side mei itni space hai, jaane ki😂naa bhi hoti toh JUMP mara ja sakta hai puddle ke upar se, ye sab kya nonsense hai😂😂🤷🏻‍♀️🤷🏻‍♀️

— एजेंट D🌈 (@BrahmaandKiMaa) September 17, 2019
Give Her The Shoes Instead
He could have given her his shoes 🙄

— Kokum Sherbet (@kokumsherbet) September 17, 2019
Just Go Around Dammit!
Why couldn't they have gone around the puddle? 🧐

— PuNsTeR™ (@Pun_Starr) September 17, 2019
Eyes are Burning 
Eyes burning ... kya hai ye

— Gaurav Karia (@kariagaurav) September 16, 2019
Quiet Possible!
I was worried she'd fall in that water and drown 😔

— 💫 (@Paprikaashh) September 16, 2019
Although we don't know for sure, this video looks like one of those TikTok videos which people make just for publicity. TikTok videos have become the new form of cringe-worthy entertainment on the internet but as long as it is making some laugh, why not?