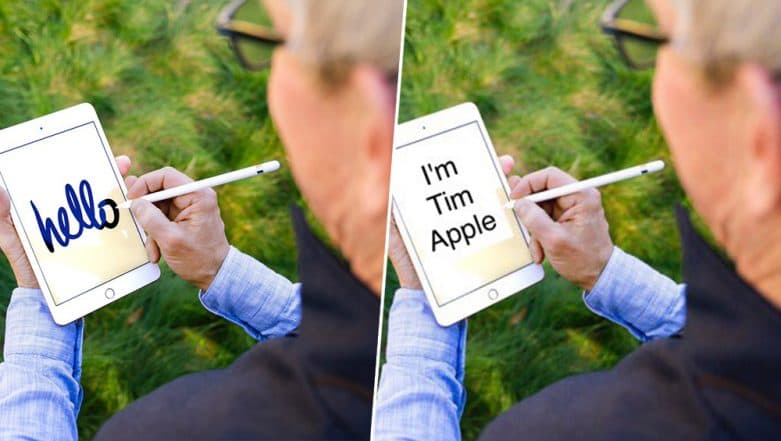 Apple CEO Tim Cook has once resulted in meme material on social media. Earlier this month, when the tech giant changed his name to Tim Apple, Twitterati had erupted in laughter. He made the changes after US President Donald Trump addressed his as Tim Apple by mistake during an event. And now once again, Tim Cook has become social media's muse. The latest memes on Tim Cook began after he shared a photo of him writing "Hello" on an iPad using a stylus. The company recently launched a new version of iPad Mini with Apple Pencil support, along with a new 10.5-inch iPad Air.
And soon, Twitter was filled with photos, memes and jokes. From taking a dig at the company on its controversy surrounding Spotify to poking fun at Apple's products, Twitter had a field day. Some even showed as if Tim were drawing Donald Trump memes. Often photographs of plain screens, books, papers, greeting cards being held by celebrities, world leaders and other popular people have resulted in memes on social media. And this picture of Tim Cook was no less than that, almost inviting meme makers. Donald Trump Gets Tim Cook's Name Wrong, Christens him 'Tim Apple'.
Here is what Tim Cook posted on Twitter:
— Tim Cook (@tim_cook) March 18, 2019
Here's how social media responded to it:
— Dan (@Coronux) March 18, 2019
The feud with Spotify
— Kitze (@thekitze) March 18, 2019
Twitterati needs an answer!
— oneblik (@sashadejbakhsh) March 18, 2019
Well, he knows that!
Hi Tim. pic.twitter.com/cHNx7FdZi0

— plz_username (@Dimensioner) March 18, 2019
Please raise hands
— AyeeGodzilla シ (@Bluezillaa) March 18, 2019
Donald Trump had mistakenly addressed Tim Cook as 'Tim Apple' during a meeting at the White House for the American Workforce Policy Advisory Board. The video featuring Trump and Cook had also gone viral on all social media platforms with internet users posting memes about to the incident. Trump had said, "I used to say, 'Tim, you've got to start doing it over here,' and you really have. You really put a big investment in our country. We appreciate it very much, Tim Apple." In reply, Tim Cook simply nodded quietly with no change in expression and so did Trump's daughter and Senior Advisor Ivanka Trump