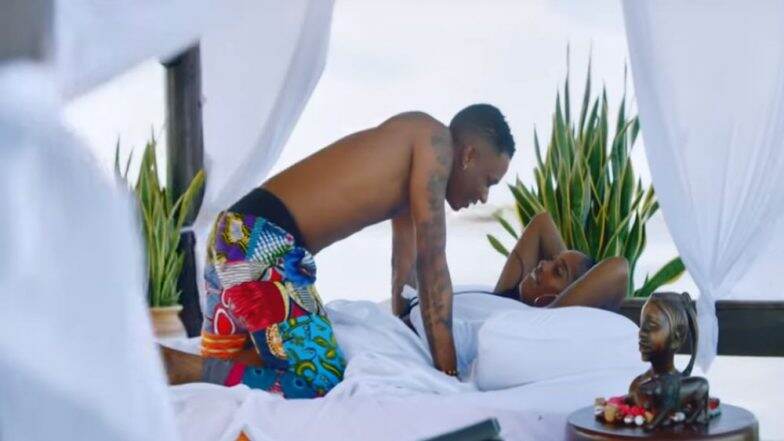 Nigerian music in on the headlines right now all over the UK, all thanks to the famous stars in the Nigerian community, Wizkid and Tiwa Savage. Recently the two released a video called 'Fever', and you see them raising the temperature with the steamy scenes in the video. This music video for Ayodeji Balogun aka Wizkid featuring Tiwa Savage has caused the Nigerians to express all kinds of reaction on Twitter. However, what is creating a frenzy on Twitter are the Twitterattis expressing their opinion on the intimate scene shown in the video between the singers Wizkid and Tiwa Savage. Sexy Sara Khan and Angad Hasija's HOT BEDROOM Scene Will Make You Sweat! - Watch Video. 
This much-anticipated visuals garnered all kinds of responses and had found its place among the top five trending topics on Nigerians Twitter. Take a look at the official video of WizKid's Fever.
Take a look at some of the Twitter reactions on the visuals of this song on Twitter.
He speaks finally!

Best friend best friend!

Hope her pant did not shift.

— thetemiherself (@thetemiherself) October 24, 2018
There are all kinds of comments!
Before she used to be her sister o, now it's best friend, me I'm waiting for the next upgrade

— Crown Martins WKF (@martins798) October 24, 2018
This was subtle...
If u know,u know😊😁 pic.twitter.com/9a3uaOh0M2

— Nancy (@IssaGoal0) October 24, 2018
Some are just done!
I'm done with you 😂 pic.twitter.com/DZUjfGAd7l

— I gym for FUN 💪 (@wf_obago) October 24, 2018
Some cannot stop being shocked!
Your whatttttt???

— Amelia ba🤙🏾 (@iSharyf_) October 24, 2018
What!?
Tiwa: You dare call me "best friend" after everything

Tiwa: pic.twitter.com/56O7svujUV

— J*O*H*N ︻┳テ╦═── (@i_am_jonoscar) October 24, 2018
Some just have a straightforward response!
@DJ_ZEEEZ FT. @WIZKIDAYO - FEVER VIDEO REFIX pic.twitter.com/ybfhQQGnyN

— DJ ZEEEZ (@dj_zeeez) October 24, 2018
The term 'Best friend' for Tiwa from Wizkid on Twitter after such steamy scenes has left people confused!
Imagine you are kissing and loving someone and they come to twitter to call you best friend pic.twitter.com/p9i6ccmCNx

— VERY GORGEOUS TO HIM (@OfficiallyVex_) October 24, 2018
Tiwa Savage, Mavin star, played the role of the love interest in WizKid's newly released 'Fever'video which also showed Tiwa in a Starboy necklace. The two are well-established singers and have won many awards in the field of singing. Tiwa's ex-husband Tunji 'Tee Billz' Balogun was also trending after the video began to trend. What do you think about the video? Let us know in the comments section below.