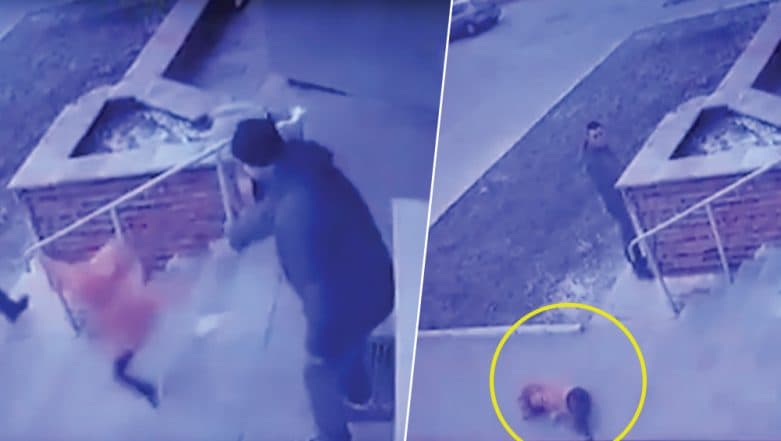 A Ukrainian father who got too cruel in dealing with his children fighting has been arrested. 46-year-old Artem, father of two pushed his little daughter down the stairs of a shopping mall because she was fighting with her little brother over the shopping trolley. The entire incident was caught on CCTV and the footage was released on social media. Police were able to catch Artem and he has been charged with parental neglect. Jordanian Man Kills Son by Pushing the 1-YO's Pram into Sea, Was Mad at Wife Who Made Him Babysit.
Artem went to the supermarket in Ukraine's northern Rivne Oblast region with his two children. During which, both his children got into a fight over pushing of the shopping trolley. Artem told the police he tried to control them but when they did not listen, he got in a fit of rage. He told the police, "I just wanted to take her aside but when we were on the porch she pulled her arm out and fell." 13-Year-Old US Girl Records Video of Father Telling Her to Lie to Judge About His Abuse.
Watch Video of Father Throwing His Daughter off the Stairs:
Although it is unclear in the video if the girl got hurt, local reports say she was injured with a few bruises and was scared to go back inside to her dad. The shopworkers also accused Artem of throwing the girl down the stairs but the father denied. He confessed to the police that his kids were fighting on pushing of the shopping trolley and he lost it.
Meanwhile, the mother said that he is a good father but he had a nervous breakdown. She was quoted to Daily Mail, "I do not say that he was right but I think he did it because of tiredness and exhaustion." Even the neighbours could not believe that Artem would do such a thing. The family will be monitored by local social services. They will work towards correcting the attitude of the parents.