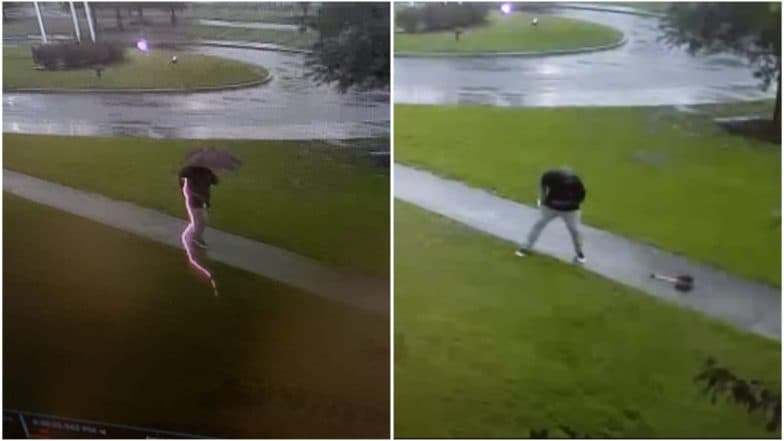 Video of a South Carolina man being hit by a bolt of lightning has gone viral on social media. The clip shows the man walking down a sidewalk when a stroke on light falls on him. Romulus McNeill who is a guidance counsellor at the Academy for Technology and Academics in Conway, South Carolina was out in the rains, despite warming from the weather department against venturing outside. Upward Lightning on Guatemala Mountain Caught on Camera, See Viral Pics and Video of This Unbelievable Natural Phenomenon!
The video shows him walking in the rain holding an umbrella. Seconds into the clip, a bolt of lightning strikes his umbrella and It falls to the floor. Thanks to the umbrella, he narrowly escaped from getting hurt. Thanks to the umbrella he was carrying, Romulus was left unhurt. According to reports, Romulus was going to his car when the lightning came in his direction. He also took to Facebook sharing photo and video of the scary experience with the caption, "Cameras caught my crazy experience with lightning. Supa thankful to have been able to motor scoot out of there without major injuries." Motorcyclist in Florida Dies After Lightning Strikes His Helmet While Riding on the Highway (View Pic)
Here Is The Facebook Post:
Following the incident, Romulus said that he only remembers seeing a flash in front of him after which the umbrella fell from his hand. Romulus was quoted as saying, "I feel like I am blessed, because it could have been a different story and wouldn't be sitting here and talking to you." Contact with lightning even for a millisecond can cause burns, seizures and brain damage. This year, lightning killed 12 people across the United States.