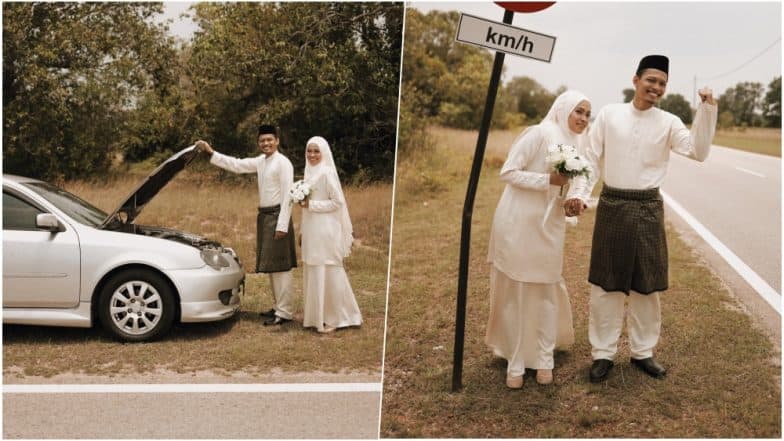 The wedding day is one of the most important days in life for any couple. But a Malaysian couple who was just married and were on their way to click some great pictures, encountered a bit of a problem when their car broke down. That could have been such a stressful moment for the two but they made the most of it by having a photo shoot at the roadside. Their photographer made a prop out of their broken-down car and clicked some great pictures, which have found much praise online. While the couple has received a lot of love and their pre-wedding shoot is now going viral. Naked Elderly Man Photobombs Couple's Pre-Wedding Photoshoot at San Deigo Beach, Hilarious Moment Goes Viral.
The photographer Api Hazmi tweeted a few pictures that he clicked of his client and shared them on Twitter. He wrote about the back story what made them click pictures at the roadside. The couple was just married and they were heading to another location to have a post-wedding shoot. However, when the car broke down, the photographer decided to utilise the resources on the spot. So he managed to click some really great pictures with great lighting at the roadside. Soon after he shared those on Twitter, they went viral with over 8,000 plus retweets and over 14,000 likes. Netizens were loving the creativity shown by the photographer as well as the couple.
Here are The Wedding Pictures Clicked by the Roadside:
Masa otw outdoor tadi kereta pengantin rosak tepi jalan. Tanpa aku buang masa aku pun shoot dorang kat tepi jalan ni 😬 pic.twitter.com/iD7L7LCdn7

— Anggun (@apihazmi) August 15, 2019
The tweet reads, "While on the way to an outdoor shoot, the newlyweds' car broke down. Without wasting any time, I started shooting them right there and then." The couple too did not seem to have any problem with the change in location. Check a few reactions on their post-wedding pictures.
Deserves recognition
OMG you are so cool. Those pictures deserve recognition😍. The angle, lighting are superb. Worth to pay tho.

— Alif Ikhwan (@alifhussin96) August 15, 2019
Goals!
Despite luck was not on their side , both of them made such a cute photo session . If this ain't relationship goals , i dont know what else is .

— nashhh (@waterpapi___) August 16, 2019
The photographer also told in a report that a lot of cars did pass by the car but they assumed the car was their prop and thus nobody waited back to ask them for help. This also reminds us of the time when an Indian photographer's efforts of clicking a picture of a couple went viral. The photographer hung himself upside down from a tree to get the right shot. A video of the same was shared online and it went very viral. Well, at the end of the day the couple has some memorable photos to look back at, which even the internet remembers.