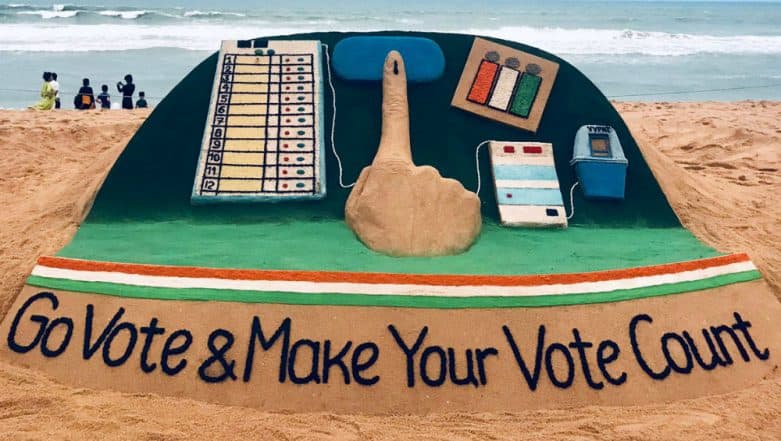 The third phase of Lok Sabha Elections 2019 has begun today, April 23, for as many as 116 Lok Sabha constituencies, spread across 14 states and Union Territories. The electorate today will vote in Assam, Bihar, Chhattisgarh, Jammu and Kashmir, Karnataka, Maharashtra, Odisha, Uttar Pradesh and West Bengal. With the elections lining up, the online campaigns appealing registered voters to vote are commendable. Along with the viral hashtag, #VoteKar or Vote for #India, popular personalities are joining in, urging people to come out and use their fundamental right. After Bollywood actor, Shah Rukh Khan's 'Karo Matdan' rap song got a thumbs up from the citizens; it is artist Sudarsan Pattnaik, whose sand art is lauded during the largest festival of Indian democracy.
When it comes to any significant festival or event like Elections, the Padma Shri awardee never shies away to portray his skill on the elegant sea beaches in Puri, Odisha. Today, Dhenkanal, Puri, Sambalpur, Keonjhar, Bhubaneswar, Cuttack and 42 Assembly seats are undergoing to the Phase 3 polls in Odisha Lok Sabha Elections 2019. On this occasion, Pattnaik created an appealing sand art with a message "Go Vote & Make Your Vote Count."
Sudarsan Pattnaik's Sand Art
#Phase3 #IndiaElections2019  . My SandArt at #Puri beach on Voter awareness with message #GoVote and make vote count in the largest festival of Indian Democracy . pic.twitter.com/cFiKrqiNFR

— Sudarsan Pattnaik (@sudarsansand) April 23, 2019
This isn't the first sand art that Pattnaik has created in this season of elections. The citizens of India welcomed the Lok Sabha Elections polls, with Pattnaik's EVM sand art.
Watch Video: How to Vote #India?
It is inspiring to see famous personalities such as him, who are striving every hard, while encouraging the citizens of the country to vote. Even Google India dedicated its doodle to the cause of Indian elections with an inked finger along with a description, 'how to vote.' The right to vote is a duty, responsibility as well as a privilege. So, come out and cast your right to vote.