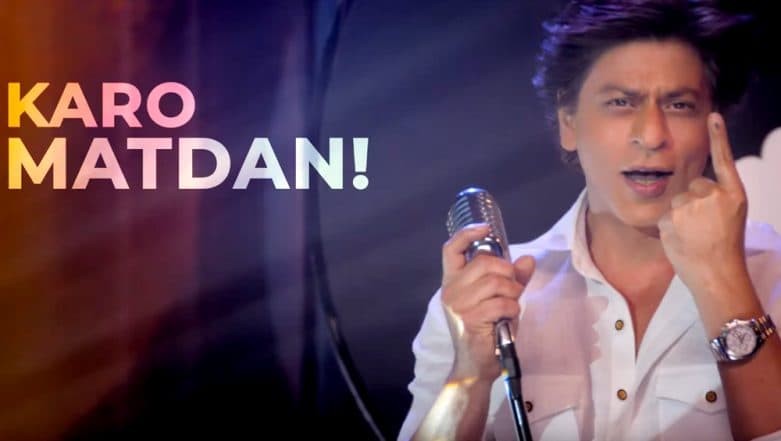 Trust Shah Rukh Khan to do something different! A few weeks back, Prime Minister of India, Narendra Modi had tagged several Bollywood stars in his tweets asking them to appeal to their fanbase to vote in the ongoing elections. Several celebs like Amitabh Bachchan, Salman Khan, Aamir Khan, Akshay Kumar, Anil Kapoor, Alia Bhatt, Ajay Devgn, Ayushmann Khurrana, R Madhavan et al responded to Modi's tweets and requested the citizens to exercise their right to vote. Only a couple of celebs didn't respond then, and one among them was King Khan. Narendra Modi Appeals to Shah Rukh Khan, Deepika Padukone, Alia Bhatt and Other Celebs To Ask Fans To Vote (Read Tweets).
Just when we were wondering why Shah Rukh Khan is giving Narendra Modi the royal snub, it looks like he wasn't. SRK being SRK wanted to stand out from the crowd and he did just that with his latest gesture.
Shah Rukh Khan actually made a music video asking people to vote in the Lok Sabha elections. Titled "Karo Matdan", the song is composed by Tanishk Bagchi with lyrics by Abby Viral. Shah Rukh Khan himself has sung the track where he asks people to vote for whom who puts the nations ahead of him or her. In the end, he also tells that it is our finger that will decide the fate of the nation.
Watch the music video below:
In case you feel that SRK's music video is appeasing a particular party, the video also has a disclaimer. It reads, "This video has been issued in public interest to encourage people to vote. This video does not endorse any political candidate, or political party or any views or positions held by any type of political candidate or party." Critics' Choice Film Awards 2019: Shah Rukh Khan's Brutally Honest Speech Proves Why He's the Baadshah of Bollywood (Watch Video).
Shah Rukh Khan shared the video on his Twitter feed where he confessed that since the PM asked him to be creative, he was late in posting his appeal for asking people to votes. And the delay to do so is this video!
PM sahib @narendramodi ne creativity ki liye bola tha. Main thoda late ho gaya video banane mein...aap mat hona Vote karne mein!!! 'Voting is not only our Right, it is our Power.' Please Use It. Thank u to @tanishkbagchi @abbyviral @parakramsinghr . https://t.co/9280i8BnK3

— Shah Rukh Khan (@iamsrk) April 22, 2019
With this 'masterstroke', Shah Rukh Khan has once again proved why makes him so different from the rest of his peers. Why is why, despite the recent spate of box office failures that his career is seeing, Shah Rukh Khan is still considered to be one of the biggest superstars of the industry.