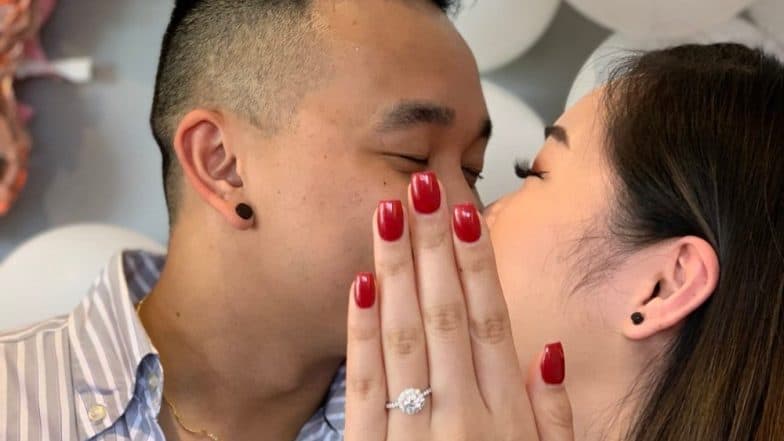 Photo of a Melbourne woman's proposal day is viral on the internet for all a funny reason. When her boyfriend surprised her by going down on her knees, she was in a dilemma. It wasn't about answering yes or no for the marriage but the fact that she had not done her nails. Neither could she compromise with the perfect proposal picture, nor had she got her nails manicured. With no option left, her cousin jumped to rescue. Jenna offered her perfectly done red nails with a ring for the photo.
She also tweeted the funny picture with the caption: 'My cousin's boyfriend proposed to her but she didn't have her nails done lmao'. The tweet has since then gone viral with over 2,15,000 retweets more than 8,90,000 likes at the time of publishing this article. Twitterati praised Jenna for having her cousin's back, especially during an important moment of her life. The photos are also being shared on multiple social networking sites too. Nail Art That Looks Feet Grown on Your Fingers Is Driving The Internet Crazy (Watch Video)
Here are the photos:
My cousin's boyfriend proposed to her but she didn't have her nails done lmao pic.twitter.com/FUwwplzkYg

— Jenna (@goodgaljenjen) November 3, 2018
With Twitter users asking more about the proposal and the couple, Jenna commented on the tweet saying that her cousin Diana is a nurse and never does her nails. She wrote, "Hi everyone I'm so happy that you're all sharing the joy of this special moment with us! To answer a couple of FAQ's: Diana is a nurse so she never has her nails done. José planned this surprise proposal & couldn't really get her to do her nails without raising suspicion."
In another tweet, she wrote, "José convinced Diana that the celebration was for his parent's wedding anniversary, before getting on his knees and revealing that it was all really for her! My girl organised HER OWN proposal party anyway there were photographers & that's how this shot was captured."