The Internet is taking away about 90 percent of people's lives and attention these days, and it is always exciting to know what exactly people are using the internet for. But what is it that people are actually checking out on the internet? Apparently, three popular XXX websites made it to the top 15 websites that Indians visited in the month of May this year! Yes, believe it or not, despite porn being banned, three XXX websites, aka xhamster20.desi, realsrv.com and xhamster.com have made it to the top 15 sites that desi Indians checked out. xnxx.com, xvideos.com and pornhub.com Most Visited Websites in the US in May 2023, Can You Guess the Top-3 in This List?
In May 2023, google.com was the most popular website in India according to the rankings. The websites Instagram.com and youtube.com are ranked second and third, respectively, in India. Aajtak. in rounds up our top 5 list of Indian websites. The most popular websites in India updated website rankings and traffic data! Google will have the most users on its website as of June 2023. YouTube, Facebook, Twitter, and Wikipedia are the next most popular websites.
It's important to note that the total number of website visits and the number of unique visitors are two different things. Because some users visit the site numerous times per day, 99 billion visits per month can occur in a world with 8 billion people. Only YouTube, with 80.5 billion views worldwide, is the other website that rivals Google in terms of traffic. Porn Site xhamster.com to Delete Some Amateur Videos Following Complaints by Expertise Bureau Online Child Abuse (EOKM).
List of Top-15 Most Visited Websites in India in May 2023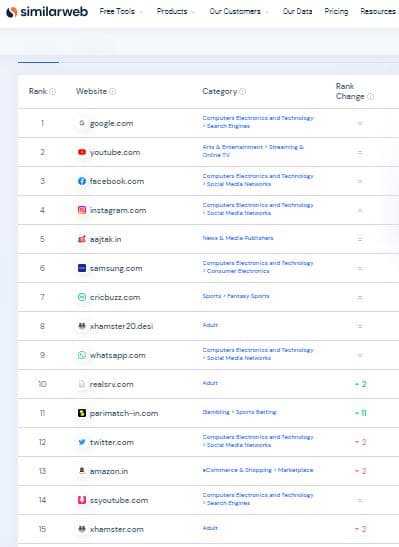 Notably, Alphabet Inc. owns and runs both websites, underscoring their dominance in the industry. As you can see from this list, many of the websites that are the most popular worldwide are well-known names like Google, YouTube, Amazon, and Facebook, however, the three XXX websites xhamster20.desi, realsrv.com and xhamster.com are a few of the top 15 sites that Indians visited the most.  Online social networking, search engines, and news or media websites are where people spend the majority of their time.
The data on the 'Most Visited Websites in the US in May 2023' is quite interesting as well. The top three most frequented websites are facebook.com, youtube.com, and google.com, according to World of Statistics and Similarweb. It's interesting to note that five XXX pornographic websites, including chaturbate.com, xvideos.com, xnxx.com, and pornhub.com, have ranked among the top 50 websites that Americans use to access the internet. To move up two ranks, xnxx.com is now in position 13.
(The above story first appeared on LatestLY on Jun 09, 2023 05:33 PM IST. For more news and updates on politics, world, sports, entertainment and lifestyle, log on to our website latestly.com).