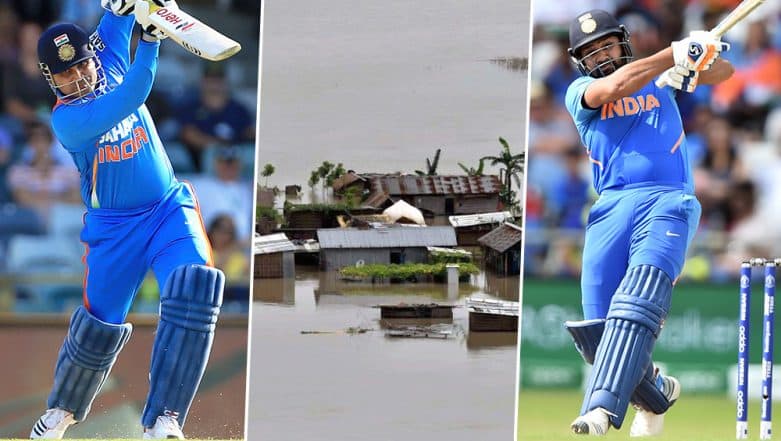 The flood situation in Bihar and Assam has been grabbing headlines all over the country. According to the reports, the flooding has claimed 55 lives till now and the numbers are touted to rise. Assam is said to be the most affected state while the heavy rains have also destroyed a huge part in Bihar and Uttar Pradesh too. Assam Floods: Death Toll Rises to 20, Over 90% Kaziranga National Park Submerged With 17 Animals Dead; 32 Districts Affected.
In the time of agony, many people from cricket fraternity have shown their solidarity with the people who are affected. Cricketers like Virender Sehwag, Suresh Raina, Rohit Sharma, and others have taken to Twitter to express their sorrow and prayers for the people in the time of crisis. Check out the tweets. Assam Floods: Situation Becomes Grim in 17 Districts; 6 People Lose Lives, 4 Lakh Displaced.
Virender Sehwag
Assam, Bihar ,Uttar Pradesh ,Tripura are reeling with floods.

It's time we stand up and support every state.

— Virender Sehwag (@virendersehwag) July 16, 2019
Rohit Sharma 
Devasted to see this. People of Assam near Kaziranga please drive safely and slowly as these beautiful animals have no where to go but on the roads 💔 praying hard for the rain to let up for them pic.twitter.com/1JkZwkiom8

— Rohit Sharma (@ImRo45) July 18, 2019
Suresh Raina 
Devastated by the current flood conditions in #Assam & other parts of India. My thoughts with those affected. Together, we can help heal this quicker. To donate, click here: https://t.co/NuLqQ4Dd2p

— Suresh Raina🇮🇳 (@ImRaina) July 17, 2019
Mohammad Kaif 
In Assam, Bihar, Uttar Pradesh, Tripura and Mizoram flood situation has become uncontrollable. These states need support. Request all to contribute in whatever way you can

— Mohammad Kaif (@MohammadKaif) July 17, 2019
Majority of the districts in Assam and Bihar have been inundated in floodwaters and the death toll is increasing. Along with the citizens' many animals of the Kaziranga National park are also affected by the great flood.  So, It's time for all the people of the nation to put their hands up and contribute to Assam and Bihar in every possible way.