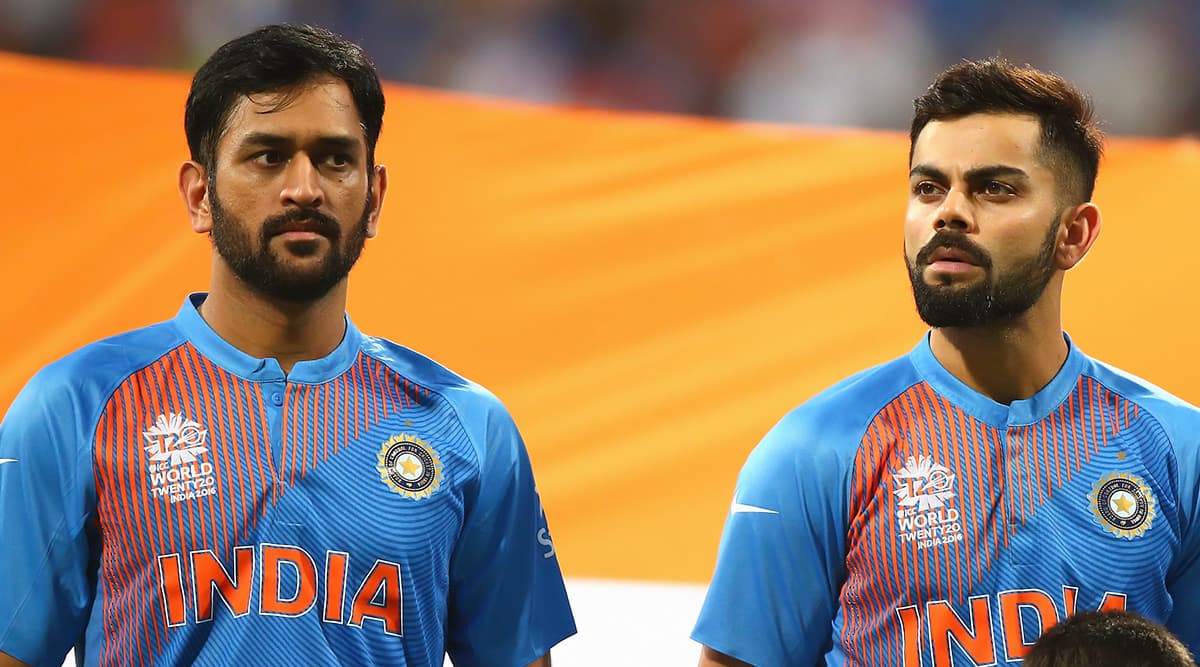 Virat Kohli is successfully taking forward the legacy of MS Dhoni as skipper of Team India. Kohli, who is the Indian skipper for Tests, ODIs and T20Is, is clinching new heights as leader of the Indian team. Virat Kohli and boys have effectively shown their dominance at home and overseas. Kohli recently surpassed Sourav Ganguly to lead India in 50 Tests, and many of his stats as a captain are better than that of former Indian skipper MS Dhoni. Here we will look at an analytical comparison between Virat Kohli and MS Dhoni's role as India skipper. Shoaib Akhtar Praises Virat Kohli Says Indian Skipper Always Puts His Country Before Himself. 
MS Dhoni played as a captain for India in 332 matches. Virat Kohli has so far led Team India in 157 matches, so the latter has crossed the half-way mark. Dhoni led team India from 2007 to 2018, leading India in 60 Tests, 200 ODIs and 72 T20Is. Talking about Kohli, he started his captainship in 2013. He has led India in 50 Tests, 80 ODIs and 27 T20Is so far. Below we look at the head to head records of MS Dhoni vs Virat Kohli in terms of captainship. Most Successful Captain in Test Cricket: Virat Kohli Third in the List Behind Ricky Ponting and Steve Waugh, Here Are The Top 5 Skippers of All-Time!
Win Percentage: When we take win percentage into consideration, Kohli is better than Dhoni so far. Kohli has a win percentage of 60 per cent in Tests, 75 per cent in ODIs and 61.5 per cent in T20Is. On the other hand, Dhoni has a win percentage of 45 in Tests, 59.5 in ODIs and 59 in T20Is.
Batting: While Dhoni scored 11,207 runs as a captain of India, Kohli has scored 10549 runs as skipper so far. Kohli is going at a great pace in accumulating runs as a captain and it seems that he will soon overtake Dhoni.
Centuries: Kohli has smashed 40 international hundreds as a skipper, which is far more than Dhoni, who had hit 11 hundreds. However, it needs to take into consideration that Dhoni played as a lower-order batsman in his entire career while Kohli plays at third position.
Highest Score: Kohli's is slightly above Dhoni in his highest score in all the three formats as skipper. Kohli highest Individual knocks in Tests, ODIs and T20Is is 254*, 160* and 82 respectively. On the other hand, Dhoni's highest score in Tests, ODIs and T20Is is 224, 139* and 48* respectively.
ICC Titles: One area where Kohli rallies behind Dhoni is winning ICC titles. MS Dhoni has won all the ICC titles i.e. ICC World Cup in 2011, ICC T20 World Cup in 2007 and ICC Champions Trophy in 2013. Kohli has led India in two ICC tournaments, ICC Champions Trophy in 2017 and ICC World Cup 2019. However, Kohli and boys were not able to lift the trophies both time.
Well, it can be said that Kohli is emerging as one of the greatest skippers for India. Under Kohli's captainship, Team India recently achieved the record of winning 11 consecutive home Tests series. However, winning ICC Titles is something which justifies one's captaincy and Kohli would be hungry to bag this milestone as well. With the ICC World Cup T20 2020 next year, Kohli has a fine chance to win his maiden ICC title as captain for Team India.