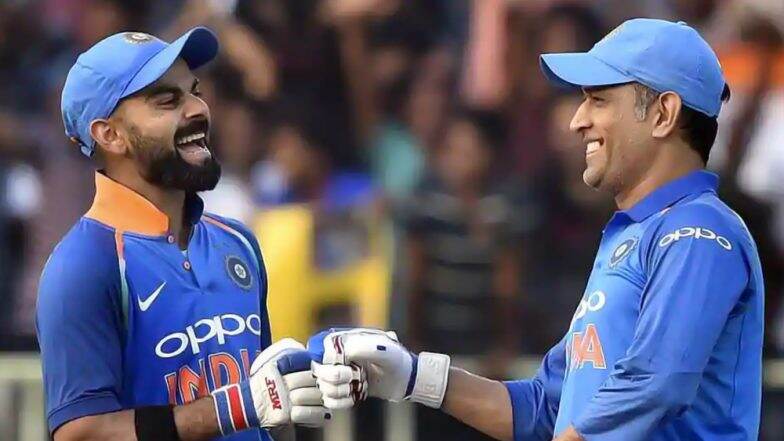 MS Dhoni's contribution in helping Team India win the recently concluded ODI (One Day International) series in Australia and New Zealand was substantial and important to say the least. Mahi guided his team to victory from crucial stages in the match and displayed his excellent temperament once again. Former Sri Lankan captain, Kumar Sangakkara believes that Indian captain Virat Kohli will benefit from the experience of Mahendra Singh Dhoni at the upcoming cricket world cup 2019. MS Dhoni to Retire After World Cup 2019? Here's What Chief Selector of Indian Cricket Team MSK Prasad has to Say.
Not just with the bat, Dhoni's contribution as a think tank on the field with years of experience behind him, helps his captain during crucial stages in the match. And it is this asset that makes him an indispensable tool. Former Sri Lankan captain Kumar Sangakkara, recently in a statement, endorsed MSD's selection and said that there is no substitute for experience and that is the reason why Dhoni will be an integral part of Indian team for ICC Cricket World Cup 2019.
The Sri Lankan legend feels that Kohli will be needing the Indian wicket keeper's vast experience in the upcoming World Cup to be played in England & Wales. We should not forget that Dhoni is still the only skipper to lift all three ICC titles-WT20(2007), World Cup(2011) and Champions Trophy(2013). According to Sangakkara, Dhoni will definitely make place in the squad for the world cup tournament. Virat Kohli to Bat at Number Four During the ICC Cricket World Cup 2019, Coach Ravi Shastri Mulling Number Three Role for Ambati Rayudu.
Prior to the ODI series in Australia & New Zealand, Dhoni's presence was questioned at times, as many thought that Dhoni has lost the spark of the yore and his hitting abilities. Also, with Rishabh Pant knocking on the door, every failure with the bat made Dhoni's place in the playing XI a point of debate. Fans still think that Rishabh Pant, with his decent wicket-keeping and attacking batting, should be given a chance to play in the World Cup 2019.
But instead of calling Pant's emergence as threat for Dhoni, Sangakkara said that healthy competition within the team makes the team even more stronger. Now, one may or may not be a Dhoni fan , but it is hard to refute Kumar Sangakkara's claim that Dhoni's inclusion in the playing XI will only add to the weight of the Indian cricket team and the Men in Blues chances at World Cup 2019.