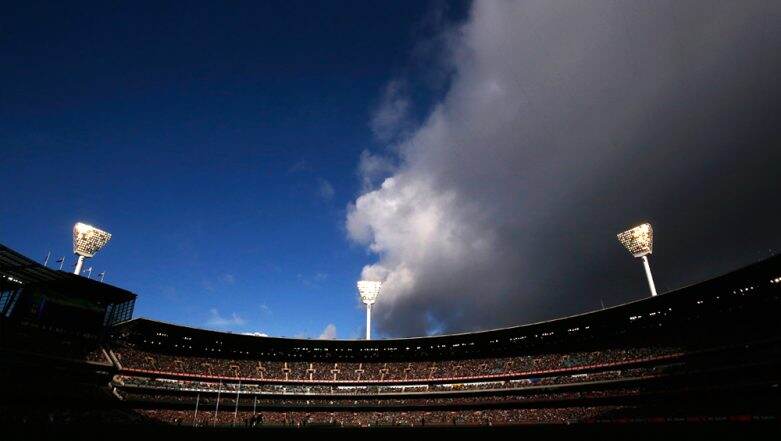 India is on the driver's seat in the Third Test match against Australia at the Melbourne Cricket Ground (MCG), currently. As Day 4 of the game ended, India needed two wickets to win, while Australia needed 141 runs to win. It looks like it will be a cakewalk for the visitors on the final day; however, the weather forecast ­for December 30 makes it exciting. Catch Live Updates of India vs Australia, Third Test Match 2018, Here.
According to Weather.com, Melbourne city is likely to witness rain showers in the night (December 29) and in the early morning too (December 30). The possibility of the rain on the final day has made the proceedings more interesting. Mumbai Indians Take A Jibe At Tim Paine, Tweets 'Mission Failed' Taking Skipper Rohit Sharma's Side During IND vs AUS 3rd Test at MCG.
The weather forecast for December 30 reads, "Showers in the morning, then partly cloudy in the afternoon. Chance of rain 40 percent."
The Australian lower order, especially Pat Cummins, had to grind hard to take the fight the other day. Pat Cummins and Nathan Lyon were unbeaten on the crease as the Day 4 gameplay ended. If it doesn't rain on Day 5, it will be a near-impossible task for the home team to find a way out. Kerry O'Keefe Slammed on Social Media for Asking 'Why Would You Name Your Kid Cheteshwar, Jadeja?' During IND vs AUS, 2018 Boxing Day Test.
The 4-match Test series is level at 1-1 currently. Given how the things are at the moment, team India might win in the first session tomorrow. Or, if the rain gods are too kind to grant Aussies fans' wishes, the rain might rescue the home team, with the game at Sydney being the series decider. Stay tuned with the India-Australia Test Series 2018-19!