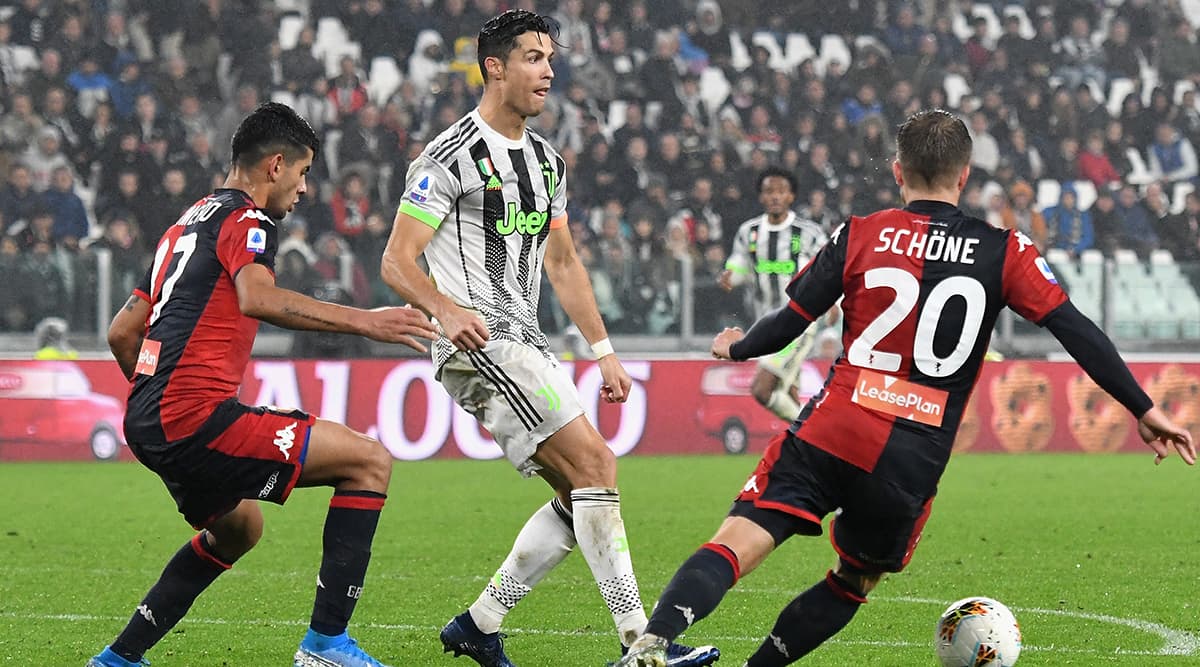 Cristiano Ronaldo was trolled for allegedly diving in a Serie A game between Juventus and Genoa. The Portuguese superstar scored the winning penalty in extra-time to take Juventus on top of the 2019-20 Serie A points table with a 2-1 win over Genoa. The game looked to be heading for a 1-1 draw until Juventus were awarded a penalty in the sixth minute of extra time after Antonio Sanabria appeared to have brought down Ronaldo in stoppage time. The 34-year-old made no mistake from the spot to take Juventus on top of the Serie A team standings but wad accused online for diving to win the decisive penalty, which eventually decided the outcome of the match. Cristiano Ronaldo's Stoppage Time Penalty Hands Juventus 2–1 Win Over Genoa in Serie A 2019–20.
Leonardo Bonucci put the hosts ahead in the 36th minute but Christian Kouame levelled four minutes later to make the game 1-1 but Francesco Cassata's sent-off in the 51st minute gave Juventus the one-man advantage to launch attacks. But the home side could not break the deadlock and were pulled back when Adrien Rabiot was asked to march off for a double booking in 11 minutes three-minutes from the final whistle. Ronaldo initially scored in the third minute of stoppage time but was flagged off-side before being controversially awarded a penalty.
Cristiano Ronaldo Scores To Put Juventus Back on Top
Goal and Celebration.

Count on Cristiano Ronaldo to win games.

— Cristiano Ronaldo (@TheRonaldoTeam) October 31, 2019
Ronaldo's contact with Sanabria was minimal and it looked more like the Juventus forward had attempted to force a touch off Sanabria than the other way round. Ronaldo fell forward and the referee had no hesitation in pointing to the spot although it appeared to be controversial. Fans online made a full mockery of the Juventus star and also called him "Diving King" for play-acting and stealing points off Genoa.
The Greatest Diver!!
Ronaldo The Greatest diver of All Time pic.twitter.com/3rIiNYCB4y

— LR10Elite (@LR10Elite_) October 30, 2019
Some Things Never Change
A Ronaldo dive and then a penalty to win, some things never change #JuveGenoa #juventus

— AnnaW #FBPE (@Annawaves_21) October 30, 2019
Decide for Yourselves
Someone tell me this isn't a dive #SerieA #Juventus #Ronaldo pic.twitter.com/n4KALM6I1f

— J. Velazquez (@JuanDirection58) October 30, 2019
Genoa Were Cheated
Most definitely a dive, Genoa were cheated #Ronaldo #Juventus pic.twitter.com/TQ671Yc0PM

— Sohail (@Sohail11933818) October 31, 2019
Dive for a Penalty
Ronaldo dived and VAR gave a penalty. Wow! You guys still compare this clown to Messi? What a loser! pic.twitter.com/0xQ5Q5ZXzR

— BeksFCB (@Joshua_Ubeku) October 30, 2019
Penalty Was a Dive
Ronaldo's penalty was a dive😂

— E L E M E N ⚓️🇬🇭 (@NanaQwofy_) October 30, 2019
Stop Diving Please
Lmaoooo @Cristiano stop. Just STOP !!!! 😩😩😩😩 pic.twitter.com/dxXU11UPk8

— 💞Lady MESSI 💞 (@nalhie) October 30, 2019
Can Never Be Messi
Ronaldo still diving in 2019? Can never be Messi.. pic.twitter.com/5bnZhYiBFx

— High Chief Obi (@Waffirian_) October 30, 2019
Meanwhile, Juventus' 2-1 win over Genoa not just kept them on top of the 2019-20 Serie A points table but also maintained their unbeaten streak in the competition. Maurizio Sarri's men have now won eight and drew two of the 10 games they have played in Italy's domestic league. Antonio Conte's Inter Milan are second with 25 points after 10 games.