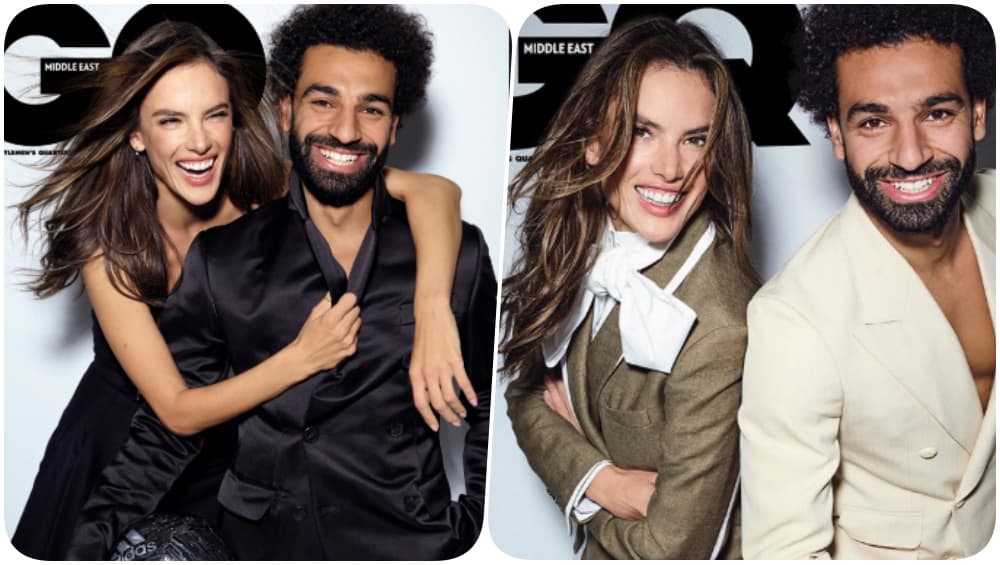 The Arab world is often criticised by the world for its double standards especially towards women. According to a few of them, women are scrutinised immensely for their choices, unlike men. This time it was Liverpool star Mohamed Salah was the reason for the fury of the netizens. The Egyptian footballer who is the face of the sport in Egypt was named as the Man of the Year by GQ Middle East. As per the magazine, Salah represents "living proof of the power of positive thinking."Mohamed Salah Put on Special Training Ahead of Manchester United vs Liverpool, EPL 2019-20. 
So far so good. The footballer posed with famous TV personality Alessandra Ambrosio and Salah shared the snap on social media and this created quite a debate as the model was seen wrapping her arms around Salah. The snap is quite friendly and does not seem to hold any allusion. But then the netizens slammed the double standards followed by the people in Arab and said that had a woman from the country posed with a man like this, she would have faced the wrath of the society.
The netizens vented out their furry on social media. First, let's have a look at the post shared by Salah.
View this post on Instagram
Check out a few reactions below:
https://twitter.com/oldernihaad/status/1182943927311183873?s=20
Call for freedom
literally!! Arab men in particular have so much freedom in comparison to Arab women and that just makes it really hard to support them when they're celebrated for shit that the women would get dragged to hell and back for

— I AM NOT A WOMAN. STOP CALLING ME SHE. (@indiosyncratic) October 12, 2019
Yet another one
Any Arab woman in the public spotlight wouldn't be able to get away with 1/1000 of what Mo Salah is celebrated for and its for that reason I stopped stanning this man and won't celebrate any Arab man until Arab women are afforded the same unconditional support. https://t.co/xtgDfM3Tux

— Nooran A. (@nooranhamdan) October 11, 2019
Double standards
Egyptian actress (@RaniahYousief) gets dragged for wearing a revealing dress.

Yet #MoSalah wins #GQ Man of the Year despite supporting sexual predator Amr Warda.

Imagine the outrage if this pic was an Arab female with a male model's arm around her. #ArabHypocrisyAtItsFinest https://t.co/UPJwOg81Dv

— ✍️ Rachel McArthur (@raychdigitalink) October 12, 2019
Last one
Tbh not here to comment on Mo Salah's pic, tis a shame but each to their own. What IS shocking tho is MT's clear double standards when upholding religiosity. Dina Tokio received death threats upon removing hijab, imagine she was posing with another man you lot would not spare her

— رقية (@daruqs) October 12, 2019
Talking about Salah, the footballer is currently undergoing a special training ahead of their game against Manchester United. Salah had recently picked up an ankle injury during Liverpool vs Leicester City. Liverpool has remained unbeaten so far in the EPL 2019-20.