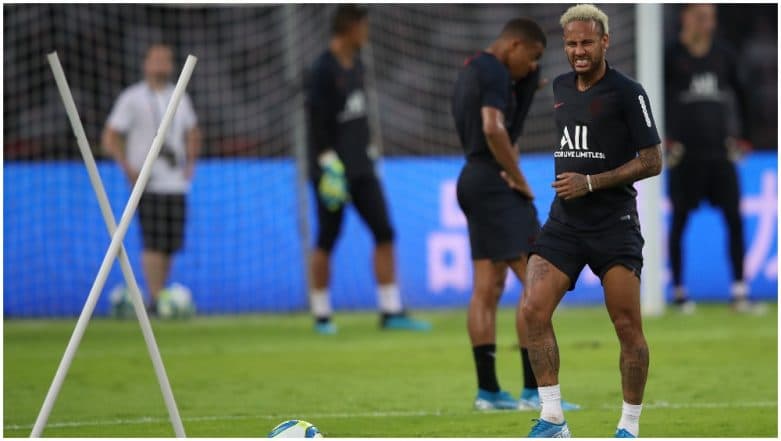 Neymar's transfer to away from Paris Saint-Germain continued to dominate the football market even as we move into the final two-weeks of 2019-20 summer transfer window. It is evident that Neymar will leave but where is the ultimate question. Real Madrid were on top last week but this week Barcelona seems to be his likeliest destination and news have now emerged that the Brazilian have been asked by the Blaugrana board to show more intent and prove his commitment to the Catalan club before a potential return to Camp Nou. Neymar to Barcelona Confirmed? Blaugrana Chiefs in Talk with PSG for Possible Player-Swap Deal after Brazilian Star Rejects Real Madrid.
It was reported two-night ago that Barcelona's top-heads had travelled to Paris to meet the PSG hierarchies and that a deal was likely to happen. But nothing really materialised. PSG have held on to their $210m demand for the mercurial Brazilian, while Barcelona – who can't produce that much money especially after spending so heavily on Antoine Griezmann – have offered a player-swap plus cash deal. The La Liga champions are willing to offer Philippe Coutinho, Nelson Semedo or Ivan Rakitic in addition to cash. Neymar Transfer News Latest: Real Madrid Players Urge Ex-Barcelona Player to Come and Join Them at Bernabeu, Say Reports.
According to a report from The Express in the UK, Barcelona have asked Neymar to show his commitment and interest towards a return to the Catalan club with a public gesture. It might be some social media post or any comment in a press conference. It is said that Neymar is also interested in joining Barcelona once again. He wants to reunite with Leo Messi and Luis Suarez in the Catalan club. It, however, won't be easy for both the player and coach Ernesto Valverde even if Barcelona eventually end up signing Neymar.
Meanwhile, the Brazilian forward was verbally abused despite not being in the field during PSG's opening Ligue 1 clash against Nimes at Parc des Princes. PSG won the game 3-0 but there was unrest among the fans, who put up a protest banner against Neymar and chanted abusive chants against the Brazilian.
PSG director Leonardo has already confirmed that the club are willing to part ways with Neymar and are open to selling him if anyone meets their required fee of $210 million. The wide-man is apparently frustrated with the French club's repeated failures to go past the Champions League quarter-finals. Real Madrid are also in contention to bring him at the Bernabeu. Real president Florentino Perez has been a long-time admirer of the Brazilian and wants him as the first of the club's future galacticos.