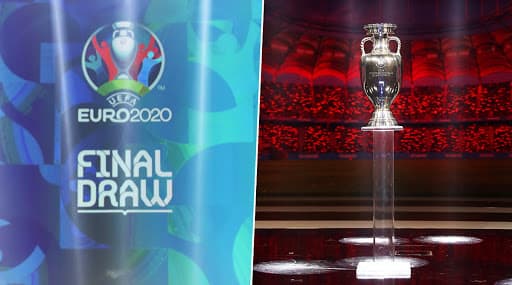 The Group stage draws for Euro 2020 have been announced and some spectacular fixtures are is store during the prestigious competition. Last three European winners of major tournaments will play in the same group at the Euro 2020 as France, Germany and Portugal have been drawn together in the group of death. Germany and France are respective winners of the 2014 and 2018 FIFA World Cup, while Portugal are the reigning European champions. 2018 FIFA World Cup's beaten finalists Croatia are drawn together alongside England in Group D, a team they defeated in the semi-finals of the 2018 World Cup. As the draw has been finalised we take a look at the teams in Groups A to F. UEFA Euro 2020: Germany Coach Joachim Low Excited to Feature in Group of Death.
The directly qualified 20 teams have been allotted their positions in the group while four spots are still up for grab. These spots will be filled by teams that come through the play-off stages. The play-off stages include some big names such as Bosnia and Herzegovina, Romania, Scotland, Northern Ireland and Serbia who all will be looking to book their place in the competition. The winners of these play-offs will take their place in respective groups as mentioned during the draw. Play-off winner A (Iceland v Romania, Bulgaria v Hungary) will be placed in Group F while play-off winner B (Bosnia & Herzegovina v Northern Ireland, Slovakia v Republic of Ireland) will be in Group E. The winner of play-off D (Georgia v Belarus, North Macedonia v Kosovo) will be allocated a spot on Group C and the winner of play-off C (Scotland v Israel, Norway v Serbia) will be in Group D.
UEFA Euro 2020 Group Stage
Group A (Rome and Baku): Turkey, Italy, Wales, Switzerland
Group B (Saint Petersburg and Copenhagen): Denmark, Finland, Belgium, Russia
Group C (Amsterdam and Bucharest): Netherlands, Ukraine, Austria, Play-off winner D
Group D (London and Glasgow): England, Croatia, Play-off winner C, Czech Republic
Group E (Bilbao and Dublin): Spain, Sweden, Poland, Play-off winner B
Group F (Munich and Budapest): Play-off winner A, Portugal, France, Germany
The tournament will begin on June 12, 2020 and will be played till July 12, 2020. The top two teams from each group and the four best runners-up will progress into the round of 16. Wembley Stadium will host the semi-finals and the finals.