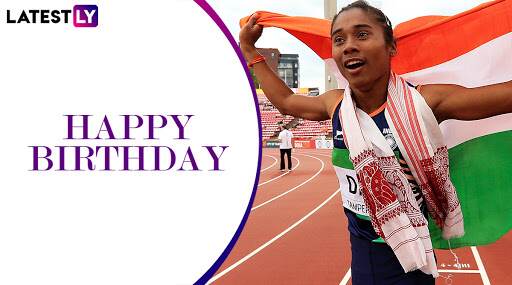 India's sprint sensation Hima Das will celebrate her 20th birthday on Thursday (January 9, 2020). Born in Dhing – a town in the state of Assam – Das is nicknamed as the Dhing Express. The youngster has taken athletics in India to unimaginable heights due to her recent success all over the world. Hima Das holds the current Indian national record in 400 metres with a time of 50.79 seconds, a feat she achieved during the 2018 Asian Games in Jakarta. So on the occasion of the Dhing Express' birthday, we take a look at some of her greatest achievements. Hima Das Appoint as New Brand Ambassador of Gatorade India.
Born in a farmer family, Das has reached incredible heights, winning five back-to-back gold medals in a month in the Czech Republic in July 2019. The young sensation rewrote history books in 2018 as she became the first Indian athlete to win a gold medal in any format of a global track event when she clocked at 51.46 seconds at the IAAF World U20 Championships held in Finland. From a young age, Das was interested in Sports as during her childhood days she played football with the boys from her school and wanted to pursue a career in women's football. But upon the advice of a school physical education teacher, she changed to sprint running and hasn't looked back since, winning countless medals along the way.
Hima Das' Incredible Records and Achievements
On July 12, 2018, Das won the 400m final at the U20 World Championships in Finland, making her the first Indian to win gold at an international track event.

On August 26, 2018, she clocked at 50.79s in the 400m final at the Asian Games, thus setting a new national record and winning a silver medal.

On July 2, 2019, Das bagged gold in 200m event at the Poznan Athletics Grand Prix in Poland

On July 7, 2019, she won 200m gold at the Kutno Athletics Meet in Poland

On July 13, 2019, Das won gold at Kladno Athletics Meet in the Czech Republic

On July 20, 2019, Das bagged gold in 400m race in Nove Mesto, Czech Republic

On September 25, 2018, Das was awarded the Arjuna Award by the president of India
Her success has taken her to new heights in the Sports world as in September 2018 she was announced as the brand ambassador of Adidas. Das will be gearing up for the 2020 Tokyo Olympics where she will try and add to her already a well-established legend.