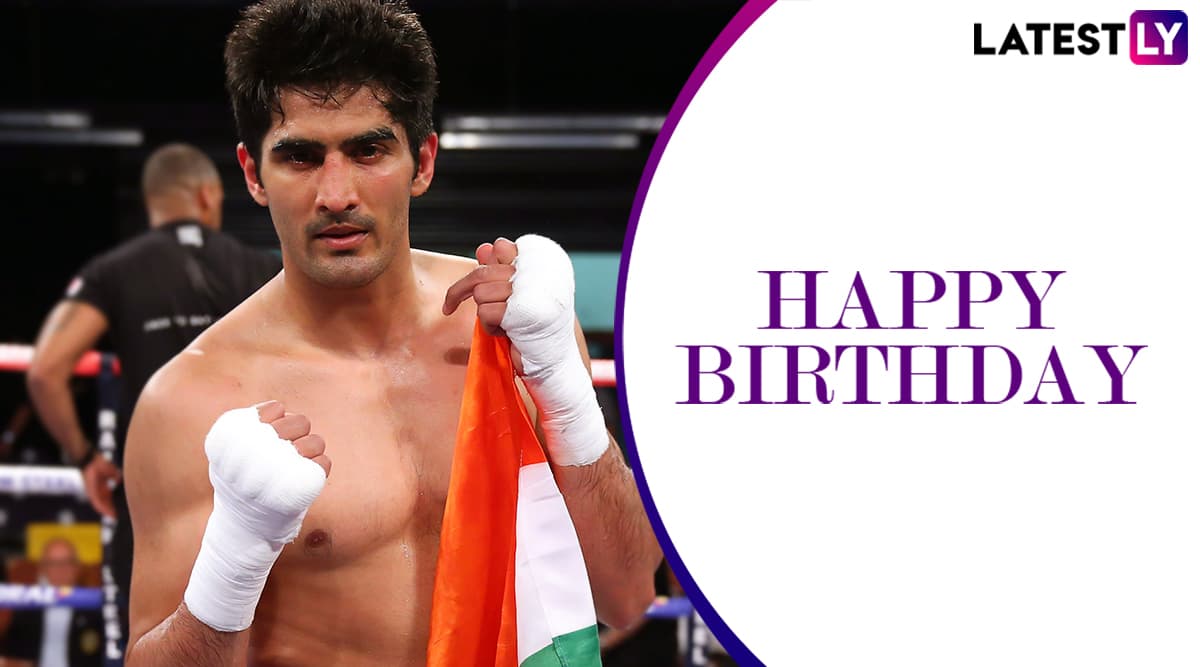 With boxing gloves in his hands, Vijender Singh punched his way into Indian hearts. The celebrated boxer and India's first-ever Olympic medallist in boxing, celebrates his 34th birthday on October 29, 2019 (Tuesday). Born in Jat family in the Kaluwas village of Bhiwani, Haryana, Vijender took up boxing to help his struggling family financially. With Mike Tyson and Muhammad Ali as his role models, Vijender set out to conquer the boxing world and nearly did it in Beijing, 2008 where he became India's first-ever Olympic medallist in boxing. Vijender had to settle for bronze at the Beijing Olympics but not before graphing India's route at the biggest of all stages for athletes.
He came second in most of the amateur elite international boxing tournaments, with the gold at the 2010 Guangzhou Asian Games being the only time he topped the podium in international boxing circuit. But a change in career has resulted in a change in fortunes. Vijender turned professional in 2015 and has since not lost any of the 11 bouts he has played so far. In eight of those 11 bouts, he won via a knockout. As Vijender Singh tunes 34, take a look at some of the lesser-known things and achievements of first-ever boxing Olympic medallist.
Gymnastics Dream, Boxing Forced
Vijender Singh always wanted to be a sportsperson. Ever since boxer Raj Kumar Sangwan's Arjuna award, shook up the sporting culture in Haryana, Vijender dreamt to be a sportsperson just like so many in his community. But boxing was never the first choice for Vijender. He wanted to become a gymnast. At the age of 10, fascinated by the athleticism of the gymnast at the Sports Authority of India (SAI) training centre at Bhiwani in his home state, Vijender turned to athleticism. But the dream lasted for just 10 days before Vijender gave up the dream after failing to do the handstand – a basic exercise in gymnastics.
Money Fight And Career Aspirations
Vijender Singh had once considered turning professional boxer following the bronze medal at 2008 Beijing Olympics but eventually did not take the though seriously as he harboured another Olympic medal for India. But watching the bout between Floyd Mayweather Jr and Manny Pacquiao – billed as the 'fight of the century' – on May 2, 2015, Vijender had made his decision. He turned a professional boxer a month and 27 days later after the Mayweather-Pacquiao 'Money Fight.'
Historic Olympic Medal
At his second Olympic Games appearance, Vijender Singh scripted history. Fighting in the middleweight category at the 2008 Beijing Olympics, Vijender clinched India's first-ever Olympics medal (bronze) in boxing. He defeated Badou Jack 13-2 in the round of 32, thrashed Angkhan Chomphuphuang of Thailand 13-3 in the last 16 and followed it up with another 9-4 victory over Carlos Gongora in the quarter-finals to assure himself and India a first Olympics medal in boxing. Vijender lost to Cuba's Emilio Correa in the semi-finals to return home with a bronze medal.
Love for Non-Veg Food; Wife Vegetarian
Vijender Singh loved cooking. It is said to be his best hobby. Speculations are also rife that he loves cooking for his wife. What does he love cooking? Vijender loves cooking meat dished and is a fan of chicken tikka to add to his love for other mat dishes. But his wife is vegetarian and Vijender can't cook his favourite meat dish for his better half.
The Indian David Beckham
He is a boxer, a model, an actor. Vijender Singh also has a host of endorsements up his sleeve. To sum it all, he is a good looking Indian sportsman and perhaps one of the best looking guys out there in the Indian sporting circuit. The British media called him the "Indian David Beckham."
Much like the former Manchester United and England legend, Vijender is as devastating with looks as he is in the boxing ring. The Daily Telegraph in the UK, once described Vijender as a 'celebrity of Beckam-Esque proportions in India,' leading to comparisons with the England footballer. Eventually, he was christened as the "Indian David Beckham."
Vijender is 11 nil in the professional circuit ever since jumping ships from the amateur circuit to the more fancied and cash-rich professional world of boxing. Of those 11 boxing bouts, he's played in two years, Vijender has won eight via knockouts. At one stage, he had won six successive bouts through knock-outs. Vijender even tried his hand at politics but with no gloves, he failed to pack a punch and finished third in the 2019 Lok Sabha Elections.