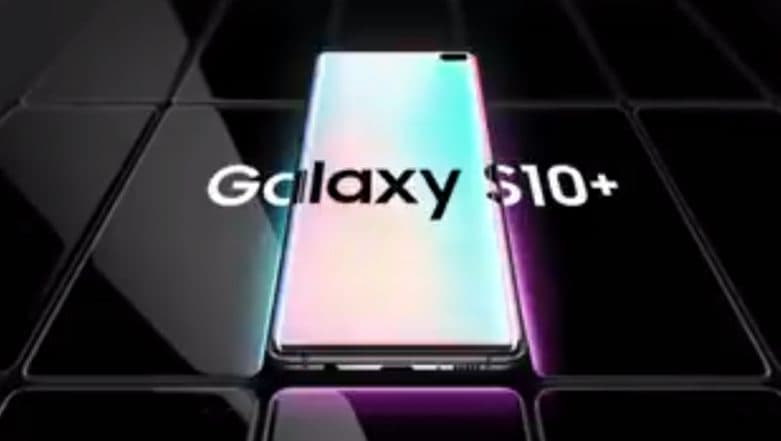 There have been several rumours and endless speculations about the new Galaxy S10 flagship devices that will be put to rest today. Celebrating the 10th anniversary of Galaxy S series, Samsung is believed to launch its foldable phone - Galaxy Fold alongside Galaxy S10 at the same event itself. We are already aware that Samsung Galaxy S10 will be seen in three versions, which will vary as per the specifications and features. The company is also rumoured to launch new version of Galaxy Watch, Fit e and other wearable devices. Samsung Galaxy S10 Global Launch Today; Watch LIVE Telecast & Online Streaming of Samsung's Unpacked Event.
SamMobile, a Samsung enthusiast blog obtained couple of images show billboards installed in Paris' Place de La Concorde. The images features a suggestive teaser which is written in Korean, which reads - "The future unfolds" and "February Twentieth". Taking this into consideration, the company will finally will be revealing the actual design of the Galaxy F aka Galaxy Fold. Leaked Samsung Galaxy S10 Pre-Order Poster Reveals Free Smart TV & Galaxy Watch Offers Before Launch.
Samsung has already confirmed that they are introducing its 10th anniversary Galaxy S Series smartphone ahead of MWC 2019, which is scheduled to commence from February 25 in Barcelona. It make clear sense that Samsung is not willing to share the limelight with other smartphone manufacturers as the Samsung Galaxy S10 is concerned. As the fact that the MWC 2019 will see participation of several rivals like LG, Huawei, Oppo, Sony and Nokia. Samsung Foldable Phone 'Galaxy Fold' To Get New Infinity Flex Display; Leaks Surfaces Online Ahead of Official Launch.
But, the question here is that Will Samsung really be taking the risk of announcing two eyeball grabbing devices at the same event? Well… only time will tell. If Samsung made simultaneous announcements of Galaxy S10 and Galaxy F devices at the unpacked event, it may result in foldable Galaxy phone eating up the limelight of Galaxy S10. Also, the devices will have to share the same headlines in the media in spite of dedicated stories, which could lower the impact on the audience. New Samsung Galaxy S10, Galaxy Buds Leaked TV Commercial Emerges Online Ahead of Unpacked Event 2019: Watch Video.
All of these are mere speculations and rumours, we will finally get to know everything today as the event commence at 12.30 AM IST, when Samsung will kickstart the event in San Francisco. We can surely expect some surprises from the Korean smartphone.